We are a professional blog site that may receive compensation or free samples from the companies whose products and topics we write about. We are independently owned, and the opinions expressed here are of the writer. To read the full disclosure click here.
________________________________________________________________________
Dave Carignan is a man with an abundance of artistic talent and chock-full of creativity.
Inspired by Disney, he draws a picture for his wife, Lori Carignan, containing one or more characters from the Disney creative universe.
His wife even used some of his creations to illustrate a children's book she wrote for a class. "I used his illustrations in my project and everyone loved it," Lori wrote.
[UPDATE: We've published our own kids coloring book! Get a free digital copy of Dongler's Dinner Quest (a $24 value!) by downloading it here!]
On May 3rd, after the couple had taken the day off, Dave woke up around 11 at night due to "a strange tingling feeling going up and down his spine that was progressively getting worse," according to Lori. Within about two minutes of waking Lori up, Dave had lost all strength and control over both his arms and hands.
"I brought him to the emergency room and the doctors there could tell there was inflammation in his spine following a CAT scan and were worried he had suffered a stroke in his spine," Lori said.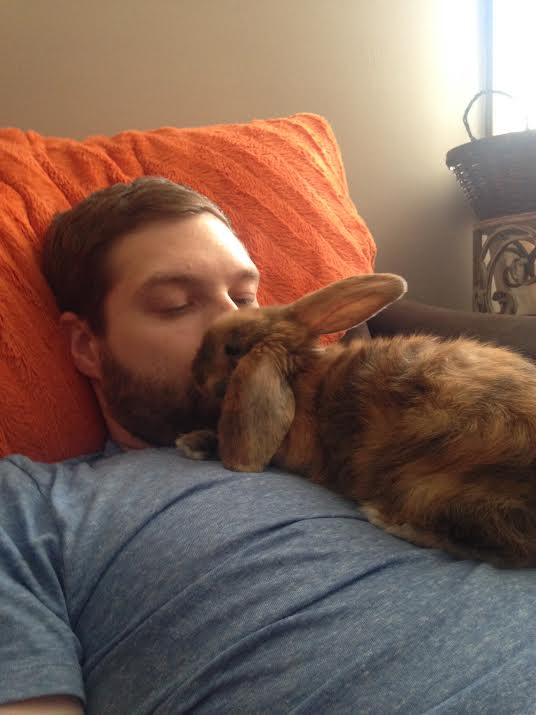 Dave was rushed to a different hospital with a staff neurologist to get a better gauge of the situation. After 24 hours he still did not have much control in hands or arms, but Dave remained hopeful.
The second night in the hospital, Lori brought Dave a children's coloring book and crayons "in hopes it would help him get some motion back." One of the pages said to draw an imaginary friend, and Dave got to work.
"He started drawing this little green monster and I was immediately surprised that he could [actually] draw as well as he did considering he couldn't even hold a pen a few hours earlier," Lori said. "I also remembered hearing about Budsies and was instantly thinking about turning his little green monster into a special keepsake."
Lori ordered Bizzle Bozz, the small green monster of Dave's imagination, from Budsies the next day.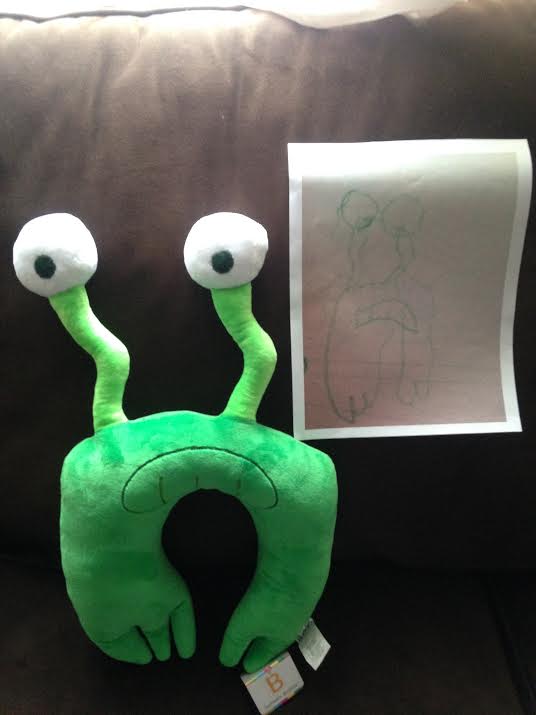 Dave was sent home after five days of being in the hospital. After being subjected to countless MRIs, MRAs, CAT scans and spinal taps, he was "totally exhausted" and they still had to wait for the test results.
It turns out that Dave had Transverse Myelitis, according to his neurologist. Transverse Myelitis is a rare neuro-immune spinal cord disorder that comes with a rapid onset of weakness and sensory alterations. The disease can be permanent in many situations, but Dave is lucky in that he is most likely to make a full recovery. He is still struggling with his strength, according to Lori, but he has been going to therapy several times a week in order to build up what the disease had taken from him.
A few weeks after returning home, Lori received a notification from Budsies that the green monster Bizzle Bozz was on his way.
"When he opened the box he was absolutely floored," Lori said. "He said he never thought he would see Bizzle Bozz again. We will definitely cherish him forever!"