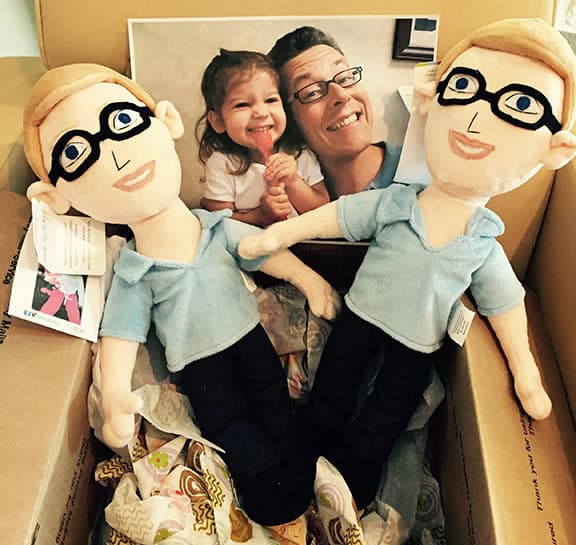 We are a professional blog site that may receive compensation or free samples from the companies whose products and topics we write about. We are independently owned, and the opinions expressed here are of the writer. To read the full disclosure click here.
________________________________________________________________________
When death strikes, not much is left behind. Some old clothes, stacks of crumpled photographs, or a seemingly haunting stream of photos on iCloud. It's a psychic loss as well as an emotional one, and for young children, the experience is also often marked by the loss of tangibility. When comfort is lost, sometimes the best way to fill a void is to create something in its wake. Something to hold onto and make you smile a little.
Vanessa McCann had her Budsie Selfies made so her children could hold their father, who suddenly passed away nearly two years prior.
She found the photo of her husband in his desk and uploaded it to the Budsies website, detailing his outfit from his signature glasses down to his favorite black hightop Converse sneakers. This was a special Valentine's Day present for her children to remember their father.
[UPDATE: You can now turn custom artwork into a one-of-a-kind plush! Make your own stuffed animal by clicking here to get started!!]
His Daughter's Reaction
Calling her Budsie her "daddy doll," Cat likes to keep her Budsie in her bedroom, occasionally bringing him along as a chaperone to sleepovers or on trips out of town. "She likes to keep her daddy doll close at night," explained Vanessa. Afraid to lose her daddy doll, she prefers to leave him on her bed, where he can greet her when she arrives home and hug her, steadying and soothing her until she falls asleep.
Keeping Memories Alive and Huggable
The Selfies we produce here at Budsies are an evolution of the technological age in which we live. They say memories fade, but with a photo, needle and thread, and the love that goes into each Budsie — we work together to bring memories keep memories huggably alive.
We are blessed to have the privilege to create a physical memento to ease the grieving process and do our part in satisfying the psychologically important need to have someone to run to and hold. For the McCann family, Budsies is a way to embrace, cherish, and remember.
And we hope these memories never fade.
Do you have a fun, unique, or heartwarming story about your Budsie, Petsie or Selfie? Fill out the

Share Your Story

form to be featured in our Spotlight Series!