We are a professional blog site that may receive compensation or free samples from the companies whose products and topics we write about. We are independently owned, and the opinions expressed here are of the writer. To read the full disclosure click here.
_________________________________________________
With everything going on in the world right now, it's even more important to show love to your Mom this Mother's Day. So many of our Moms have even more on their plate. From working remotely, to homeschooling kids, and keeping the family healthy, safe, and calm during these uncertain times. Show your Mom how much you love her with a gift that she will cherish for years to come.
The perfect gift doesn't have to be expensive either. We know some of you have lost your jobs or are struggling financially right now. Your Mom doesn't want you to go into further financial debt. If you can't afford to buy anything right now, that's okay. Your Mom will love a handwritten, well-thought-out note and a call or video chat on Mother's Day. If you have the means and want to splurge on your Mom, that's okay too. We have the best Mother's Day gift options that will really stand out no matter your budget.
Do you have a "Boss Mom"? Celebrate your successful Mom with a Selfies custom doll that looks like her! Your Mom will love this one-of-a-kind gift. You can choose to give her a career Selfies that shows you appreciate all the hard work she puts into her job (especially if she's an essential worker on the front lines), or a Selfies from a fun night out wearing her favorite LBD, or one to commemorate a special day in her life. They are hand-sewn and the designers include all the little details like earrings or other accessories that will make this personalized gift really special for your Mom. It's a gift that your Mom will adore for years to come.
$99 on Budsies.com
We know moms love personalized gifts that involve their family and friends. Budsies Photo Pillows are custom printed pillows featuring your favorite photos, your name, and fun or inspiring quotes and phrases. There are also several colors and patterns to choose from for the back of the pillow. These stylish throw pillows are an affordable personalized gift perfect for your mom whether she lives near or far. Custom pillows are wonderful keepsakes for moms, grandmas, aunts, sisters, and all your close mom friends! Plus, we love that they're made and printed in the USA. Starting at $39 on Budsies.com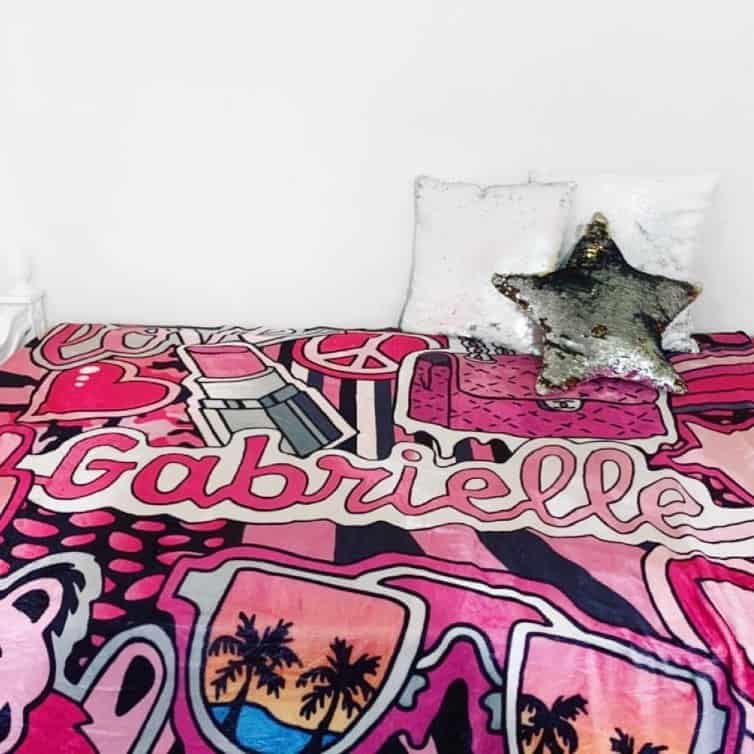 There's nothing better than snuggling up to a warm and cuddly blanket! Moms will love this personalized blanket from KicksBySammy. They have so many fun and vibrant designs and colors to choose from. The designs are hand-drawn making them a super special Mother's Day gift. Everyone in the house will want this blanket, but you can add her name on it so no one else can use it! Choose from a minky or sherpa style. Best of all, they are machine washable making them easy for Mom to care for. $100 on kicksbysammy.com/
Does your Mom live in her leggings? Now more than ever, your Mom is probably loving comfortable clothes. Help her step up her legging game with fashionable athleisure wear. Tutu Cute Dance Boutique is a woman-owned small business that sells some of the softest leggings you'll find. Your Mom will be able to bend, stretch, and chase kids for hours! They have chic designs that are both functional and fashionable allowing your busy Mom to feel great. Prices vary on TutuCuteDanceBoutique.com

Petsies custom stuffed animals make a wonderful gift for all of the fur-moms in your life. The plushies are handmade and airbrushed to match all of the unique markings of your Mom's pet. She will definitely love this personalized gift and all the thought that went into it. Your Mom will enjoy this Mother's Day gift for years!
$199 on MyPetsies.com
Sending your Mom to the spa is always a popular Mother's Day gift idea. However, that may not be possible due to COVID-19 restrictions. Ohm Lifestyle Center is providing its spa pampering services to Moms at home with their beautiful Mom's Box. Give your Mom some TLC at home with specialty skincare products, bath bombs, cocktail mixers, and more. And it supports a small business. Prices vary on ohmlifestyle.com
Your Mom can always use a new purse, and you might as well get her a stylish bag that also helps her to get organized! On The Go, Twenty Four Seven offers an entire system of bags that are cute, help you stay organized, and protect your purse. There are ten different sizes to choose from in lots of different prints. Find the perfect bag to match your Mom's personality, or have her rock the entire collection. Starting at $45 on OTG|247
If your Mom is artistic, bring her creation to life with Budsies. Your Mom will love seeing her character, drawing, or even doodle as a plushie! Budsies are handsewn and their designers make sure to include all of the little details that make your Mom's masterpiece so special. Budsies can make book characters, original characters, monsters, unicorns, mermaids, or anything your Mom can imagine! This is a Mother's Day gift that your Mom won't forget!
$115 on Budsies.com
Let's face it, if your Mom loves wine, she's drinking more of it now than ever! And she deserves it!! Help your Mom have a special Mother's Day with some Mionetto Prestige Rosè. It's world-renowned for its bountiful fragrance of violets, raspberries, strawberries, and wildflowers. It will pair perfectly with breakfast in bed, or a nice Mother's Day brunch at home. $14 750ml or $4 Minis on mionetto.com
Choosing a Mother's Day Gift that Mom Really Wants
A recent study surveyed 100 Moms across North America on what they wanted for Mother's Day. 87% of Moms surveyed preferred a thoughtful and personalized gift over 13% who would prefer a gift with a flashy price tag. All Moms want the same thing, a gift that comes from the heart that shows them you put time, effort and most importantly love into choosing your gift for her. The saying "it's the thought that counts" could not be truer when it comes to making Mother's Day extra special for your mom.
You can get her personalized custom drawings of you and mom to printing out your favorite photo together on a canvas print and displaying for all to see. Creating a personalized gift shows her you took the time to make something special that you know she will love.

*Prices and availability can change at any time. Check the price and shipping date before purchasing.