We are a professional blog site that may receive compensation or free samples from the companies whose products and topics we write about. We are independently owned, and the opinions expressed here are of the writer. To read the full disclosure click here.
________________________________________________________________________
The bond between a child and her stuffed animal is even deeper if it is her very own creation. From her imagination to her drawing to resting in her arms, Emily and her Budsie Kitty experience a bond that is as unique as Kitty's hybrid body (a combination of bug, cat, lion, giraffe, zebra, bird, and horse). Here's the story of how Kitty came to be!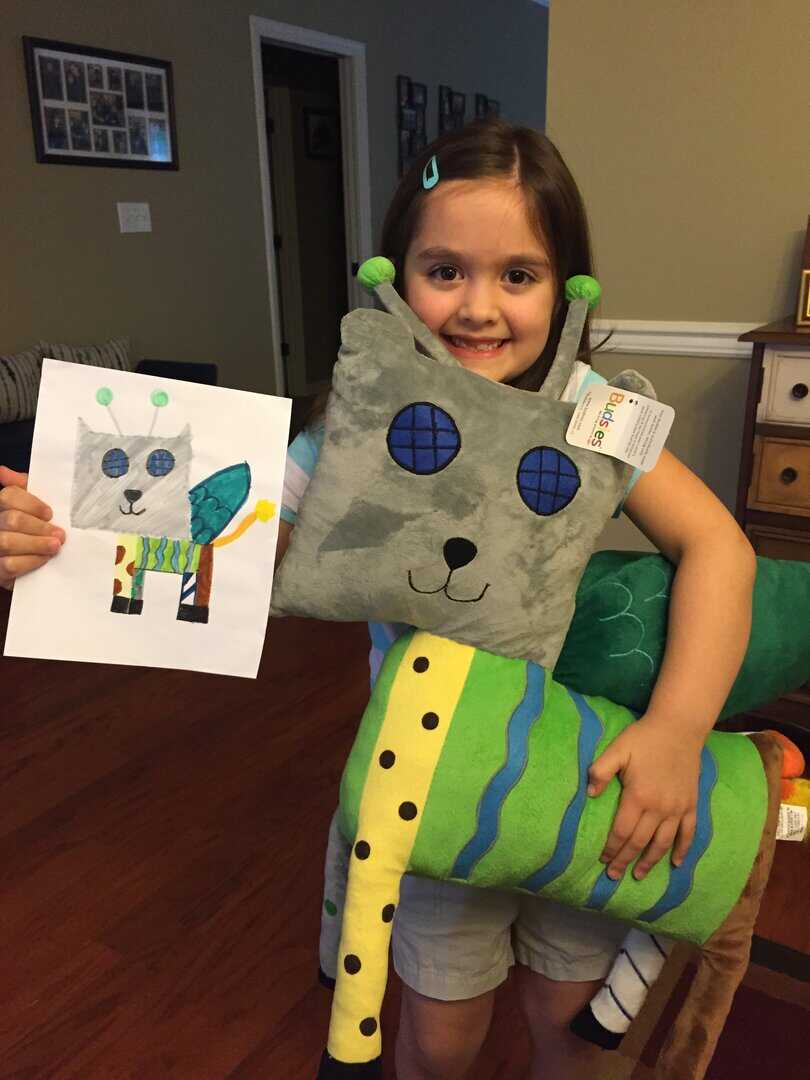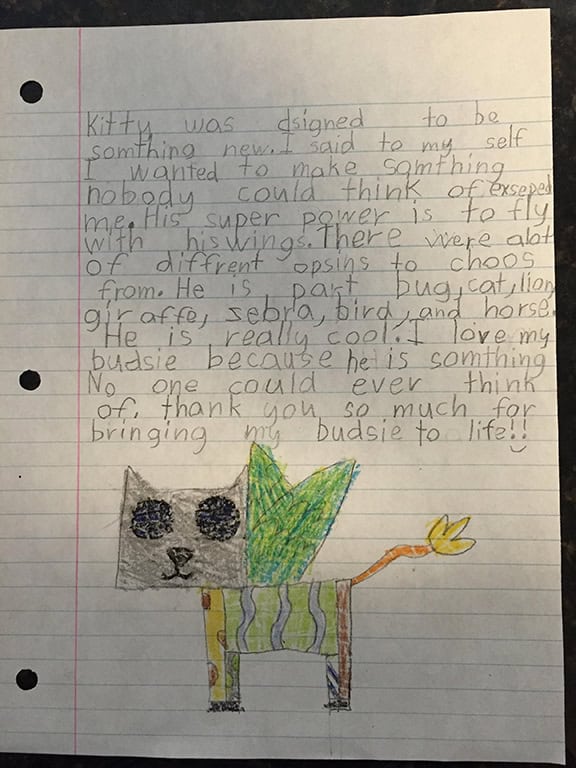 For Emily's birthday, her parents gave Emily a "Budsies Coupon," redeemable for the purchase of one Budsie. Together they looked at many Budsies pictures, excitedly discussing the ones they liked best and why they liked them. Their favorites were the wacky made-up creatures with a lot of color. Emily drew at least ten possible Budsie options and ultimately settled on a hybrid creation, complete with giraffe legs, butterfly wings, lion tail, bug eyes, and more.
Afterwards, Emily's mother noticed the Super-sized Budsies on Facebook and decided to order the Super-sized Budsie as an added surprise. When the Budsies box finally arrived, Emily could hardly manage to get her Kitty out of the box due to its size!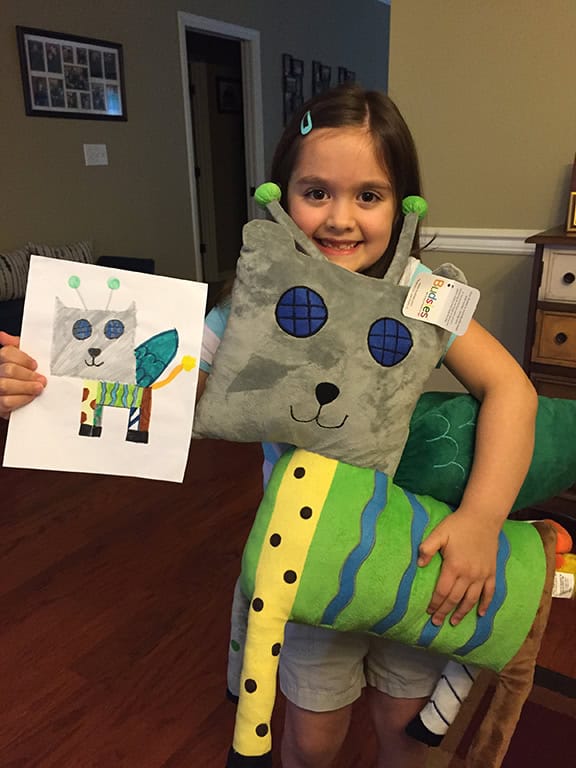 Emily loves Kitty because he is unique and interesting. In Emily's words, "Kitty was designed to be something new. I said to myself I wanted to make something nobody could think of except me. His superpower is to fly with his wings. There were a lot of different options to choose from. He is part bug, cat, lion, giraffe, zebra, bird, and horse. He is really cool. I love my Budsie because he is something no one could ever think of. Thank you so much for bringing my Budsie to life!"
[UPDATE: You can now turn custom artwork into a one-of-a-kind plush! Make your own stuffed animal by clicking here to get started!!]
Although Kitty is equipped with the power to fly long distances with his pair of emerald green butterfly wings, he prefers the comfort of home. Kitty lives in Emily's bed at their home in Madison, Alabama, but is often found snuggling with Emily in other places around the house. Most recently, he recently went on a trip to visit Emily's cousin in New Jersey, and the two enjoyed viewing Washington DC from the hotel window.
Do you have a fun, unique, or heartwarming story about your Budsie, Petsie or Selfie? Fill out the

Share Your Story

form to be featured in our Spotlight Series!