We are a professional blog site that may receive compensation or free samples from the companies whose products and topics we write about. We are independently owned, and the opinions expressed here are of the writer. To read the full disclosure click here.
________________________________________________________________________
Monsters take the main stage at this experimental learning event. The teacher and developer Hackathon, hosted by SMART Technologies, was an attempt to explore fun and new teaching strategies for teachers and their classrooms.
Titled, "Hack Your Way to 21st Century Skills," the Hackathon focuses on the integration of 21st century skills into a classroom curriculum. According to the SMART website.The goal is to give "five students first-hand experience in the 4 C's:
Collaboration
Creativity
Communication
Critical thinking
A Special Trial Hackathon
This trial Hackathon was special, however, in that it featured digital monsters (brought to life by Budsies) that needed their own "technological superpowers," a task assigned to hackathon participants. The focal point of the event, the monsters, became far more popular than the company expected.
"We asked each group to decide the Monster's name and it's technological superpower that would correspond with their Hackathon projects," Edward Tse, External Research Project Manager of SMART Technologies wrote.
The marketing theme of the Hackathon became "Teachers are Superheroes and Technology is their Superpower." The teachers involved took quickly to the project, and their love for the monsters carried beyond the time limit of the event.
"The response of these dolls exceeded our wildest expectations. Teachers started their own twitter hashtag #wantallmonsters and came up with creative ways to request more monster dolls," Tse wrote. "When brought to their class, the students even recorded videos asking for more monsters! Since the Hackathon, I've been getting 5-6 requests a day for more monsters, it's amazing to see the enthusiasm!"
Tse expects to see even more Monster appreciation and activity when classes start in the fall: "So far we have seen the Monsters shown prominently at the front of the class and used as class mascots. Teachers have also been taking a number of photos of their dolls around the school and park areas."
[UPDATE: You can now turn custom artwork into a one-of-a-kind plush! Make your own stuffed animal by clicking here to get started!!]
And the Hackathons Continue…
SMART Technologies plans on running hackathons all year in classrooms all over the globe. The monsters will probably be used as prize incentives for good performance based on their popularity.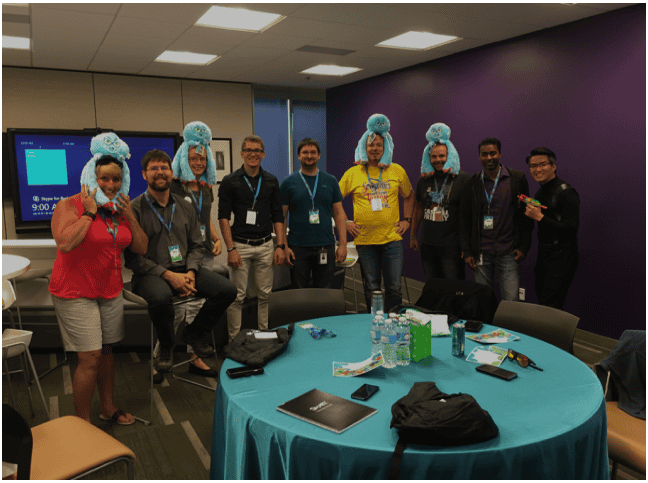 The first Hackathon, and the monsters, were a success, and Tse hopes to see that success continued in future Hackathon events.
"This year one of the goals of the Hackathon was to make it a memorable experience for the teachers and developers that participated," Tse said.
One developer recounted after the event, "The opportunity to work directly with customers with such great ideas was something I won't forget!" Another teacher shared, "I mean … that presentation … how can I ever forget! Estupenda!"