We are a professional blog site that may receive compensation or free samples from the companies whose products and topics we write about. We are independently owned, and the opinions expressed here are of the writer. To read the full disclosure click here.
________________________________________________________________________
Amidst the uncertainty of social distancing, parents, children, and businesses are looking for ways to adapt to life at home. Of course, this means no more activities or having sleepovers for your kiddos. But what happens when your little one has a birthday during the coronavirus outbreak and you can't invite their friends over for a party? Here's how one family turned an unfortunate situation into one of the best Budsies Birthdays ever!
How to Celebrate During the Coronavirus Outbreak
A lot of parents are asking what should they do if their kids have a birthday during the coronavirus outbreak. It's not easy to have celebrations right now. Noa is a fourth-grader with a big heart and overflowing imagination. Her mother, Jaime, had to think outside of the box to create a special birthday party for her daughter. They weren't able to hold a sleepover with four of her friends because of social distancing. But her mom came up with an idea thanks to her Budsies friends.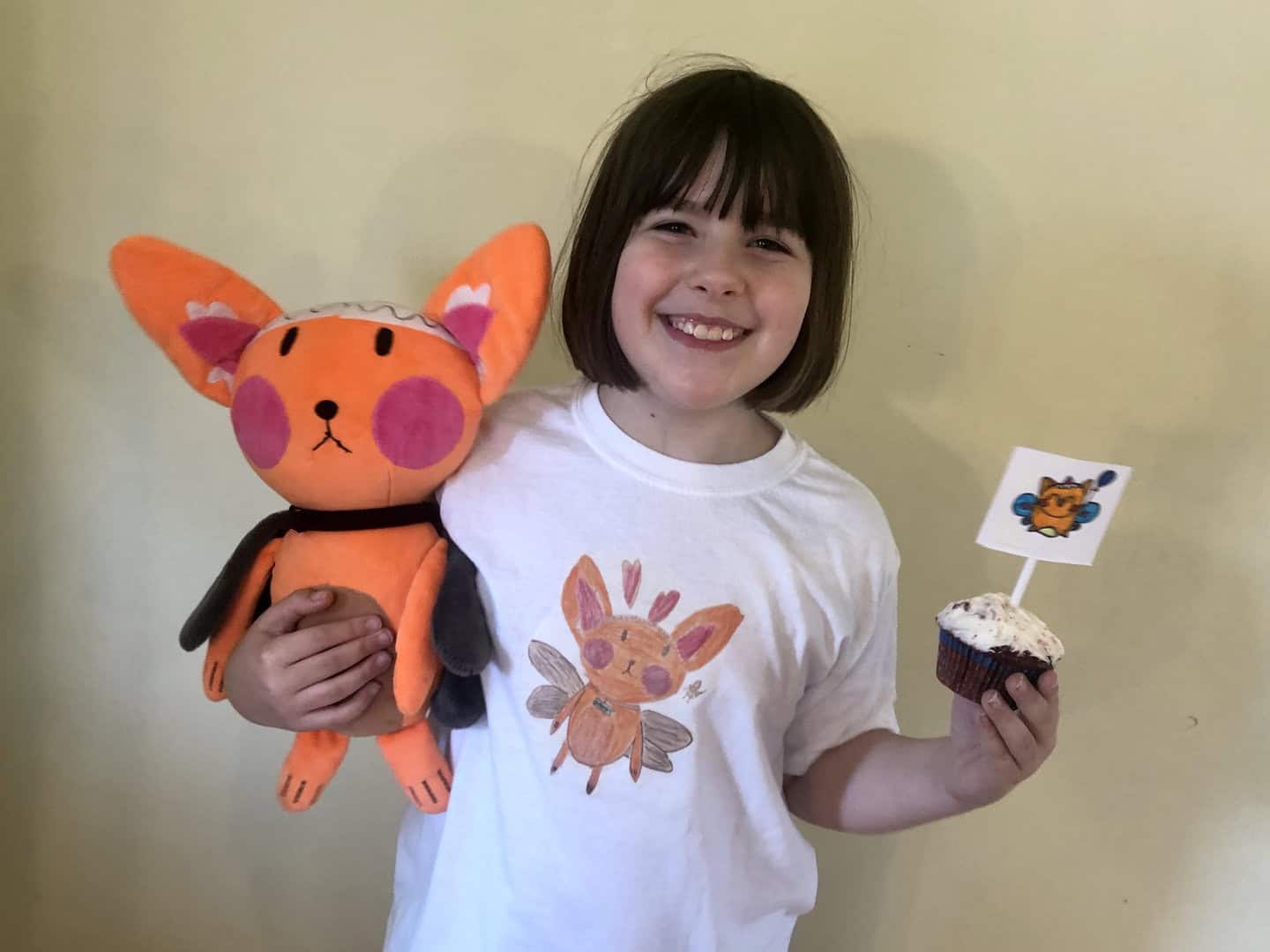 Jaime says Noa absolutely loves her Budsies. When she was in second grade, Noa designed her first "Chub" character named Dew Dew in Art Class. This fun character quickly grew into a lovable obsession for Noa. She did not just want to create one Budsies character. Instead, her goal was to create an array of her own custom stuffed animals, known as "Chubs," and to create a backstory for each one. She told her mom that she wanted to be able to hold one of her characters That's when Jaime found out about Budsies and turned to their talented designers to help Noa's wish come true.
Now Noa has four Budsies, with three more on the way. There's a "Chubs," for each day of the week! Noa even has shirts with her original designs printed on them so she can represent her creations in style as Budsies brings her artwork to life.
A Special Budsies Birthday Party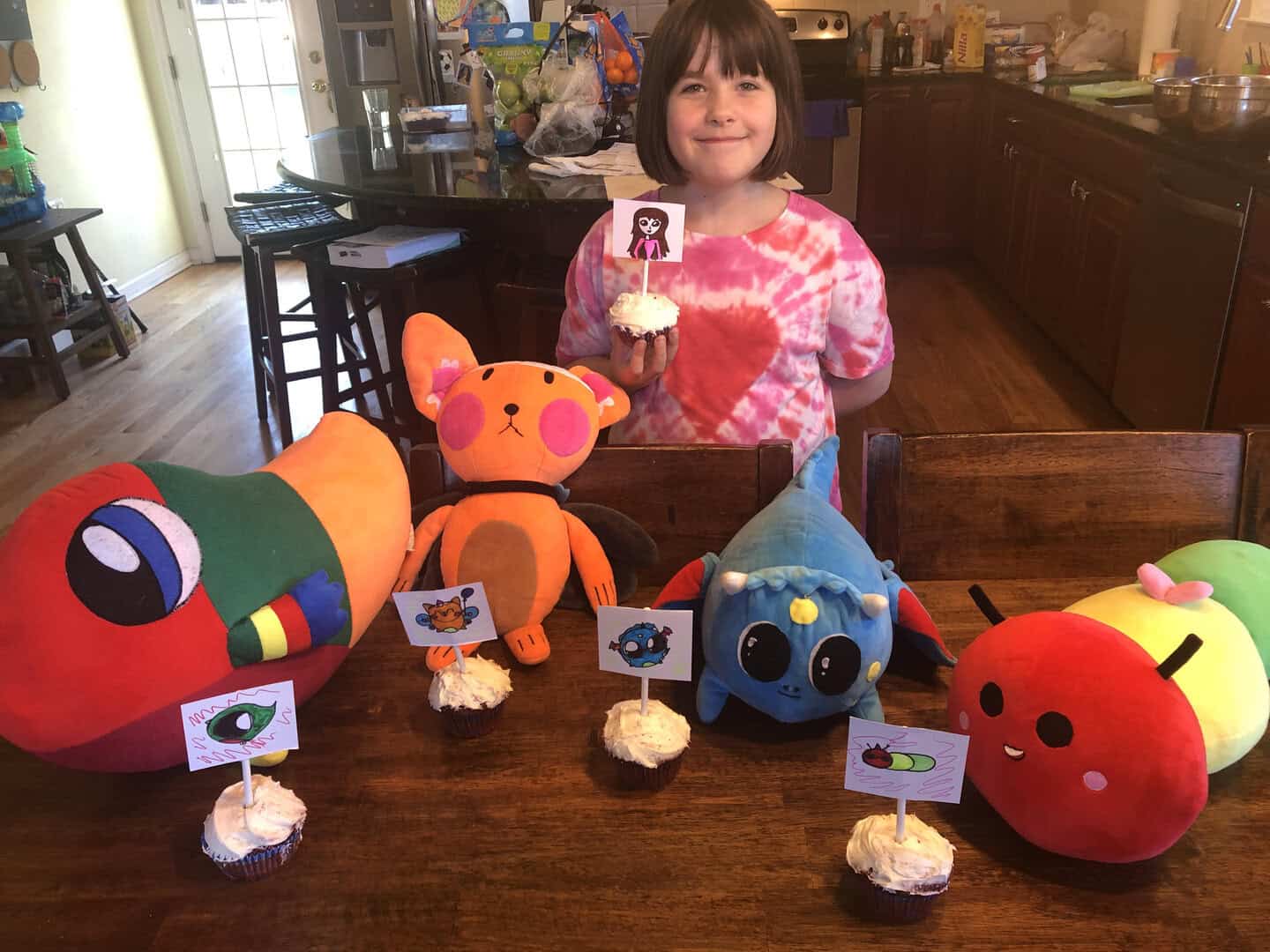 If you can't have a slumber party during social distancing, you certainly can have four Budsies help you out with a birthday scavenger hunt! Jaime took all of Noa's favorite custom stuffed animals and created an elaborate hunt for Noa to embark upon using her imagination.
In the end, all of her Budsies gathered on her bed so Noa could open her final present. Then, her parents brought her "Chub-cakes" which were little cupcakes with pictures of each of Noa's drawings sticking out of the desserts. With a little imagination and a ton of friendly custom stuffed animals, Noa had one of her favorite birthdays with the characters she lovingly created. Check out the video below to see the end of Noa's exciting scavenger hunt!
Budsies Brings Smiles During Coronavirus Outbreak
Noa told us that "Budsies are my hero." She said her story is inspired by Budsies' CEO, Alex Furmansky's story. Furmansky had our mascot, Dongler, turned into a custom stuffed animal for his sister. Additionally, Noa doesn't plan on stopping after she has all 7 of her current "Chubs." She told her entire class about Budsies and her characters. She even spends time drawing and animating cartoons of her characters, another great activity as we continue to practice social distancing.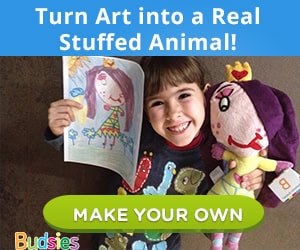 If you're looking for activities during quarantine, you can draw a unique character like Noa to have turned into a Budsies with our awesome Creativity Kits!