We are a professional blog site that may receive compensation or free samples from the companies whose products and topics we write about. We are independently owned, and the opinions expressed here are of the writer. To read the full disclosure click here.
________________________________________________________________________
Thousands of people around the world enjoy snuggling up next to their Budsies custom stuffed animals each night. One family stands out for their love of their Budsies, ordering ten plushies so far as their children have grown and their art has evolved.
Meet the Schencks and their Custom Stuffed Animals
Kimma Schenck is one special mom! She knows how to keep her daughters Morgan and Cassidy's creativity going! They have created nine Budsies between them—and are working on their tenth now! Their awesome mom has been documenting their fuzzy friends over the years, and we wanted to share some of our favorite drawings that we were able to bring to life!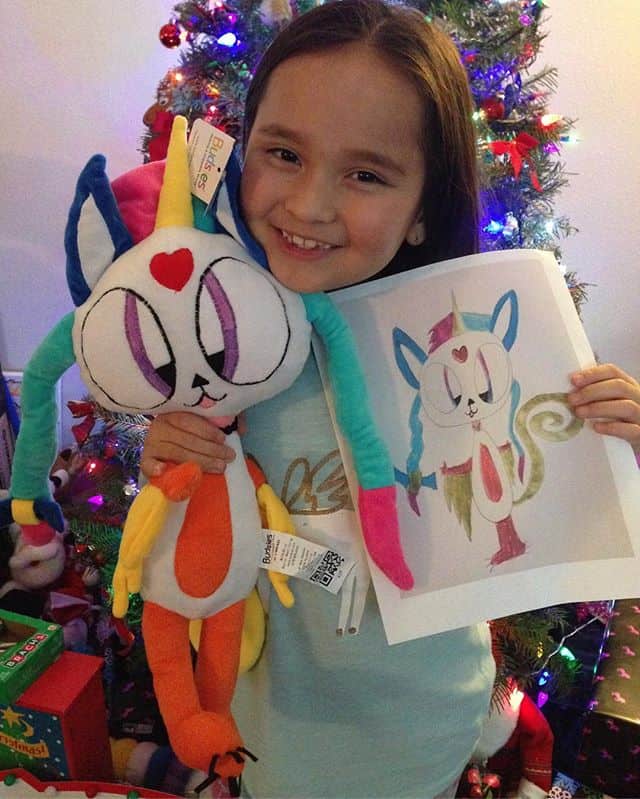 Morgan's third Budsie is absolutely adorable! With its lilac eyes and curly tail, how could anyone resist such a gorgeous plush? Whoever said, "I wear my heart on my sleeve" was doing it all wrong, as evidenced by Morgan's Budsies' heart on its forehead- the clearly superior placement. We absolutely love how this custom stuffed animal turned out and matches her beautiful drawing perfectly.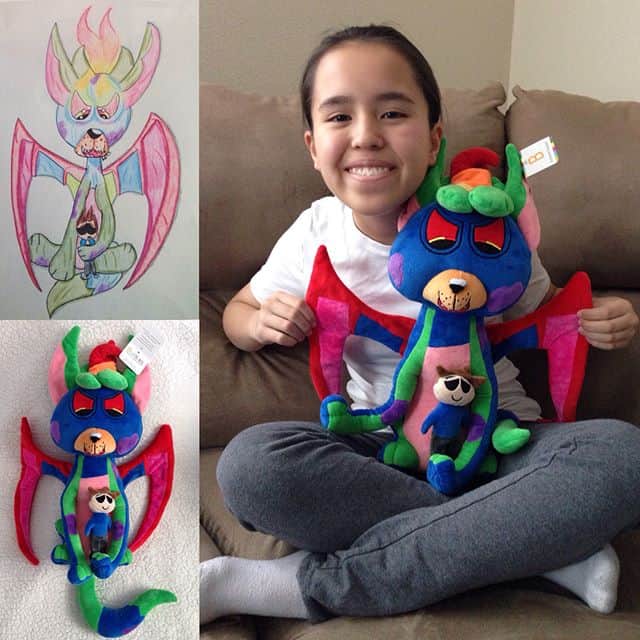 [UPDATE: We've published our own kids coloring book! Get a free digital copy of Dongler's Dinner Quest (a $24 value!) by downloading it here!]
Meet "Edwin". It's Cassidy's fifth Budsie, and it's all that you could ever want in a playmate! The colorful, winged beast with a slight evil twinkle in his eyes plushie! What a creative idea that we were so excited to turn into a custom stuffed animal! Cassidy was even so kind as to give Edwin a friend when she's off playing with her other fantastic Budsies.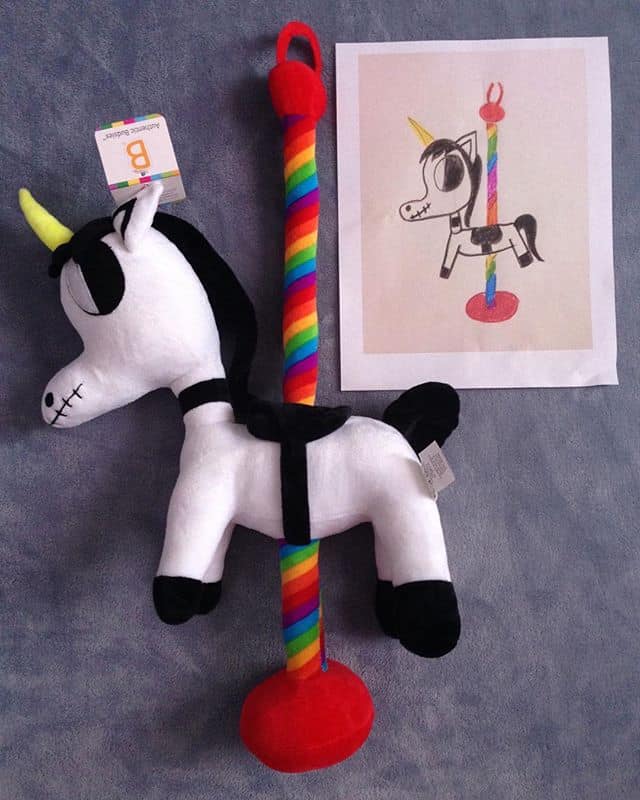 Morgan's fourth Budsie has all of the whimsy of a carousel unicorn with the bonus Morgan's artistic flair! Who knew that such an everyday object could turn into the most cuddly of friends? The details of the colorful carousel pole really came alive thanks to the Budsies designers making this custom plushie even more special!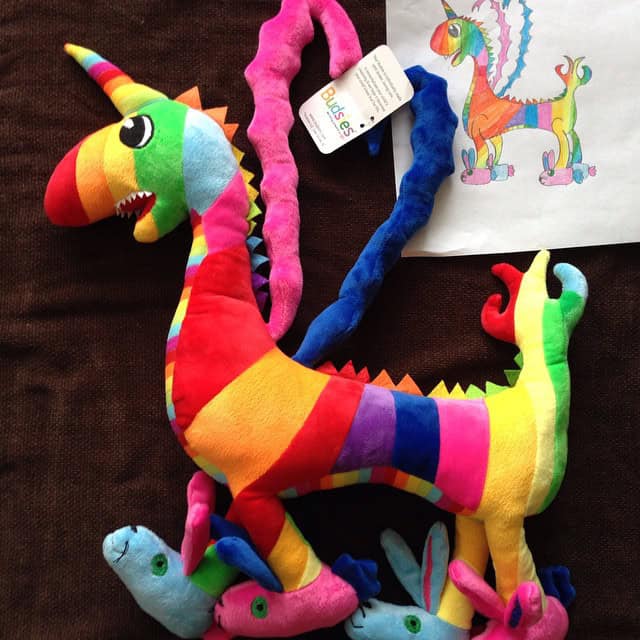 Not to be outdone in the rainbow department, Cassidy's "Spikko" manages to pull off the "just woke up" look with incredible cuteness, thanks to its adorable bunny slippers. This is such an amazing design! Budsies couldn't wait to "plushify" this ultimate creature! 
Budsies is proud to be on your cape, Schenck girls because you're our heroes! Thank you for giving us so much pleasure in making your many drawings come to life and we hope to see much more of your creativity in the future!
Create Your Own Budsies
Now it's your turn! It's so easy to make your own custom stuffed animal Budsies. Just upload your favorite drawing or artwork and Budsies will turn it into your very own handmade plush!