We are a professional blog site that may receive compensation or free samples from the companies whose products and topics we write about. We are independently owned, and the opinions expressed here are of the writer. To read the full disclosure click here.
________________________________________________________________________
Summertime classes and camps encourage kids to keep their blood pumping and their discipline high but in the guise of good, clean fun. Many summer classes take advantage of summer's warm weather. Summer camps offer a wide variety of classes in subjects like music, videography, and even computing. This year summer camps and activities are looking a bit different due to COVID-19. There are still several options that are fun virtually or in small groups with social distancing. Here are five summertime activities that kids of all ages will love that promote muscle and body development, safety awareness, and social skills.
1. Virtual Dance Camps
Maybe your kid dreams of being a ballerina. If so, then check out virtual dance camps. Many dance studios across the country are turning to virtual camps or small groups due to the Coronavirus outbreak this year. Your child can learn all different styles of dance including ballet, jazz, and hip hop. Princess dance camps are perfect for the smallest dancers from ages 2 to 8, while technique dance camps are suited for ages 9 – 12, and master dance classes for teens and young professionals. Virtual dance camps also give kids the chance to dance with other kids from around the world. That means if your child's cousin or best friend lives hundreds of miles away, they can still go to camp together! Dance camps teach kids discipline, self-esteem, and a love for the arts.
2. Gymnastics Classes
Many local sports centers offer gymnastics classes to kids during the summertime. These classes encourage kids to build strength and endurance but in a fun way. After all, what could be more fun than learning how to do a flip on the trampoline or to create the perfect balance beam routine? As an added bonus, these facilities are typically air-conditioned, giving kids an excuse to get out of the summer heat for a while. Many of these classes are now being held in small groups so social distancing can be observed. 
3. Swimming Lessons
Swimming lessons count as a quintessential summer activity. Kids love swimming lessons because they get to keep cool when it's hot outside. But there are more benefits to swimming lessons than just having some summer fun. They also learn to manage themselves and learn about water safety. Swimming classes for toddlers will get children used to the water and teach basic strokes, while advanced lessons teach kids swimming techniques like the backstroke and head rotation. These lessons are critical to keeping your child safe in the water. Kids don't have water skills naturally. They have to be taught.
[UPDATE: You can now turn custom artwork into a one-of-a-kind plush! Make your own stuffed animal by clicking here to get started!!]
4. Surfing Lessons
For those who live near the water, surfing lessons are the natural follow-up to swimming lessons. Surfing lessons teach kids how to be safe in the water, how to maneuver their boards for better control, and how to judge wave dynamics. As with swim lessons, surfing lessons also include lessons in water safety as well as tips in water etiquette. It's possible to find both individual and group lessons, depending on where you live. This is another great option this summer as we avoid large groups and continue to social distance.
5. Summer Sports Camps
Summer is the perfect time for kids to take up a new sport like soccer, basketball, or volleyball. Many of these sports are played throughout the year in local schools across the US. Putting kids in a summer sports camp dedicated to one of these sports gives them an opportunity to develop the skills they need to play these sports in school. They also offer kids a way to blow off steam and to make new friends during the summer. Many of these sports camps are offering smaller groups and keeping practice outside due to COVID 19.
Summer is a time for fun, relaxation, and fun classes. Even though we're dealing with the Coronavirus, there are still options for kids to connect and have fun this summer. If you want to sign your kids up for summer classes that they'll enjoy, or try something they're interested in or already love to do.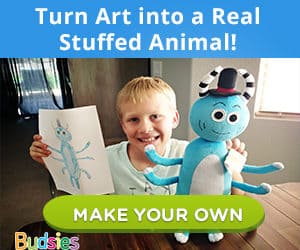 Budsies – custom stuffed animals from kids' artwork are the perfect gift for kids of all ages! Order yours today!