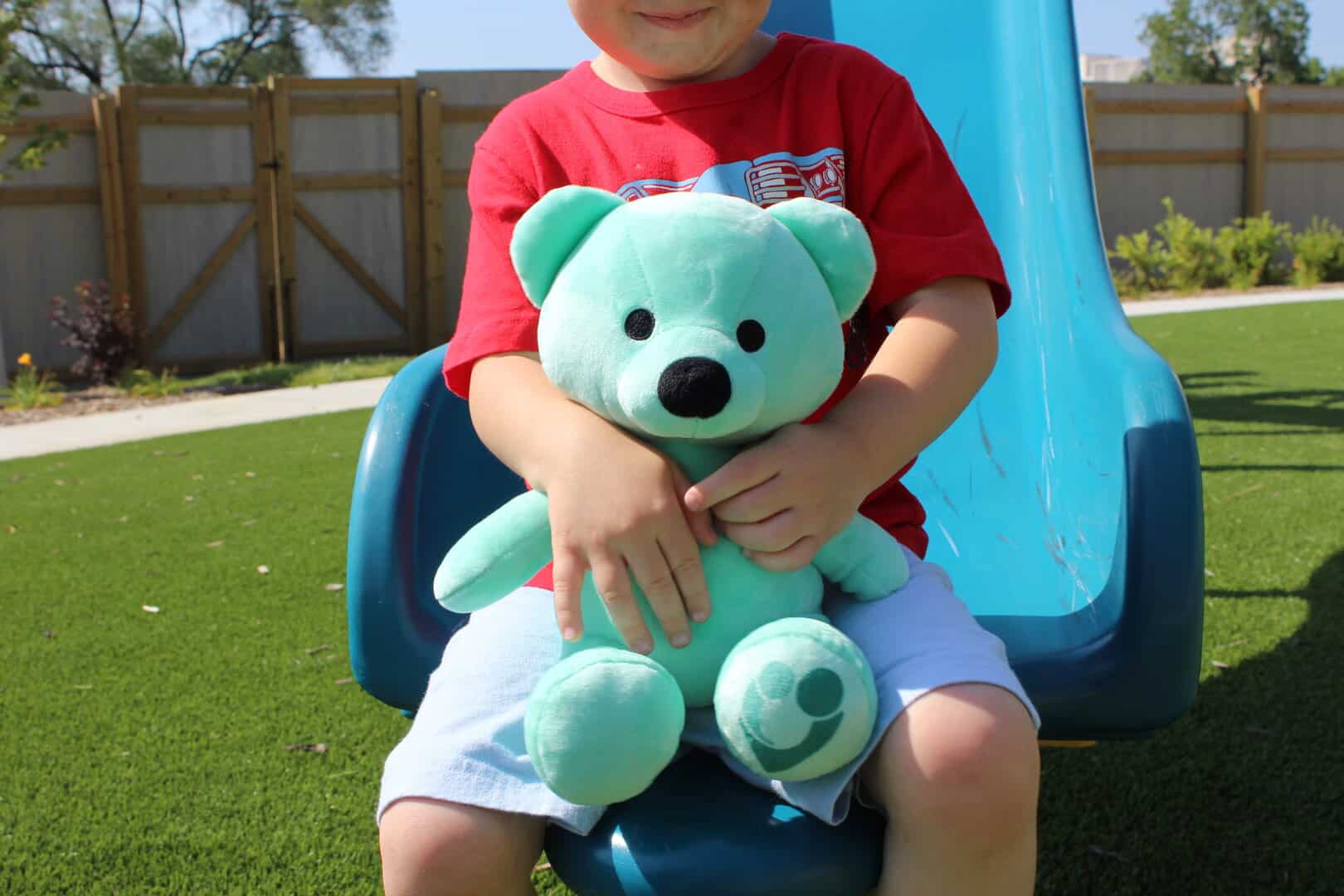 The Children's Place first opened its doors in 1978, providing critical early intervention services and care for the community's youngest members, who suffered from abuse and neglect.
Its mission is to help children and families heal from life's deepest hurts. They work to restore childhood. They tirelessly pursue, find and celebrate healing for young children who have faced trauma, enabling them to lead happy, healthy lives.
Over the years, The Children's Place has successfully created a safe and welcoming environment for these children that's heartwarming to see. The amount of comfort and positive energy the facility and staff exude is to be admired.
Every morning when the kids get dropped off at the program they are greeted by a giant teal teddy bear. He is big and bright and his name is Rudy Bear! He quickly became the agency's unofficial mascot and was named after Mr. Rudy, a beloved staff member who worked for the center for 44 years before retiring. 
The kids love to say hi to Rudy Bear; they like to rub his nose and belly for good luck and comfort before they start their day. It has become a part of their routine and a wonderful tradition for the agency.
After seeing the value and positive effect Rudy Bear was having on the children, The Children's Place came up with the idea to incorporate the newfound mascot into the culture of its program.
With the help of Budsies and Stuffed Animal Pros, The Children's Place was able to order 1,000 custom teddy bears to replicate Rudy Bear. The plush Rudy Bears provide a constant for the children they serve, who often may not experience stability in many other aspects of their lives. Rudy Bear is there to greet them on their first day at The Children's Place, and now he's become part of many sessions throughout their treatment.
"I have found that sometimes kids will disclose things through Rudy Bear instead of speaking directly to me. Sometimes it's easier for them to share about something that has happened to them through a teddy bear instead of to a person." -Ashley Phillips, Child & Family Therapist
When they finish treatment and graduate from the program, they get to take home their very own plush Rudy Bear so that they have a friend to snuggle with to remind them of their time at The Children's Place as well as help them remember the calming techniques they used during their therapy sessions.
"Rudy Bear is here with the children on their first day, and he'll still be there on their last day when they'll get to take their very own Rudy Bear home with them" continued Ashley.
Each child served has a unique voice; blended together all the children who pass through their doors create the sound of hope for a brighter, happier, safer future. Thank you to the staff at The Children's Place for everything they do and the lifelong impact they leave on these amazing kids.