We are a professional blog site that may receive compensation or free samples from the companies whose products and topics we write about. We are independently owned, and the opinions expressed here are of the writer. To read the full disclosure click here.
________________________________________________________________________
Many of us try to recycle more. We may go that extra step and keep a recycling bin in our home to be more responsible with our waste, but few can claim that recycling is "fun."
Shouldn't there be ways to make it fun, though? Like turning a recycling bin into a tin-can basketball hoop or transforming a toilet paper tube into a bird feeder?
Here are a few craft ideas that will spark some creative inspiration using recycled materials!
Recycled Crayon Candles
This craft includes hot, melted wax so be careful and supervise children when making this.
This craft may have a lot of steps, but the process can be fun and the finished product is useful and unique!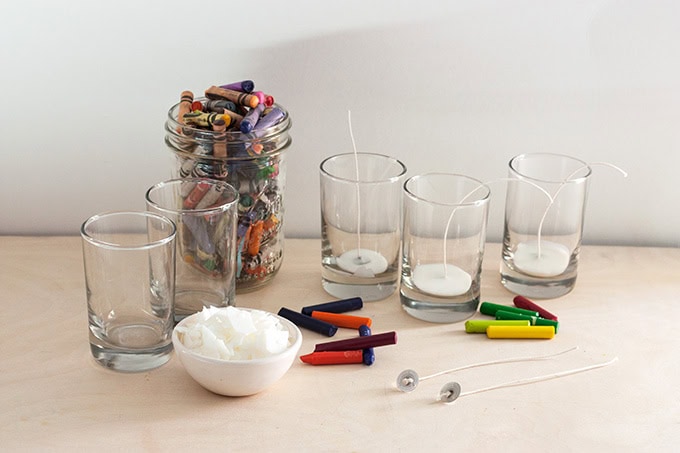 You will need some paper cups and popsicle sticks for preparing the wax and stirring, some crayons, wax, and wicks (which can be found online or in craft stores), and some glass jars/candle holders
First, melt a small amount of wax in the paper cups, and then pour the melted wax into the bottom of your glass jars. Use this wax to attach the wicks to the bottom of each jar and let the wax dry.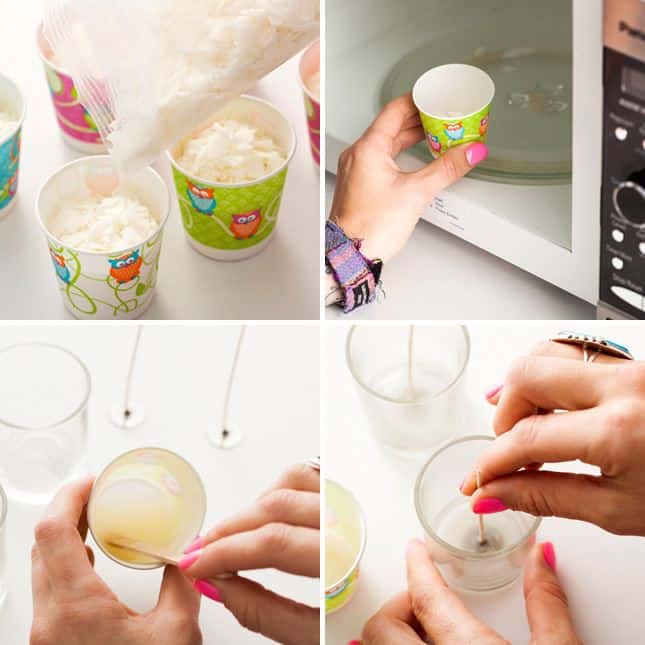 For the colored wax, put craft wax in the paper cups and place a few pieces of crayon on top of each cup. Be sure only to use one color per cup, unless you plan on mixing a new color. Microwave the cups for four minutes, and then stir the melted wax mixture until it is all one consistency.
Remember to be careful, this is hot wax! Kids can totally get involved, but they should be carefully supervised.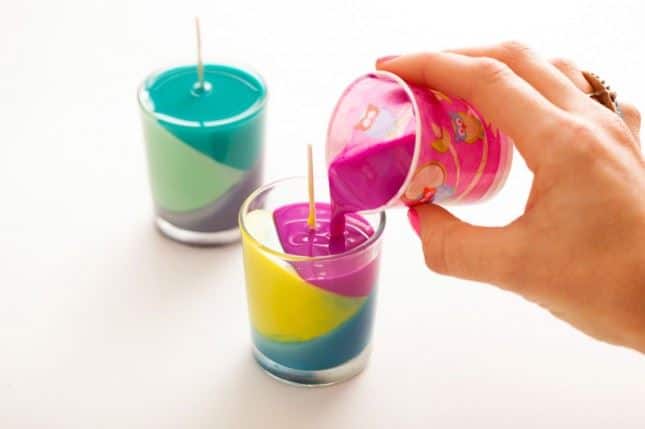 Now pour the colored wax into the glass jars. Holding the jars at different positions can yield different effects, like an angled effect or a vertical effect. Let each color dry before pouring on another color.
After that process is finished, you have your candles! To make them smell nice, scented oils can be purchased online or in craft stores and added to the heated wax mixture. This is one more way to personalize your candles — make a Christmas candle that smells like gingerbread or a tropical candle that smells like coconut!
[UPDATE: We've published our own kids coloring book! Get a free digital copy of Dongler's Dinner Quest (a $24 value!) by downloading it here!]
Glassware Decorated with Recycled Nail Polish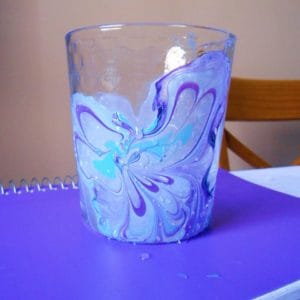 Do you have any leftover nail polish that you don't ever plan on using? Or maybe some old drinkware that is too boring for your household? Both? If so, this craft is most definitely for you.
For this craft, all you need is a paper bowl, nail polish, glassware, and painter's tape.
First, pour the nail polish into a bowl. You can make it one color, or lightly swirl a few colors together for a marbled effect.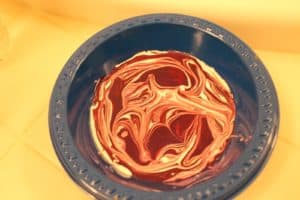 Next, wrap each glass with painter's tape at the point you want the nail polish to stop. Dip the glasses in the nail polish, be sure to get a solid coat, and then let dry.
Remove the tape after everything has dried, and you have new (and unique) glassware!
Turn Mason Jars Into Candle Holders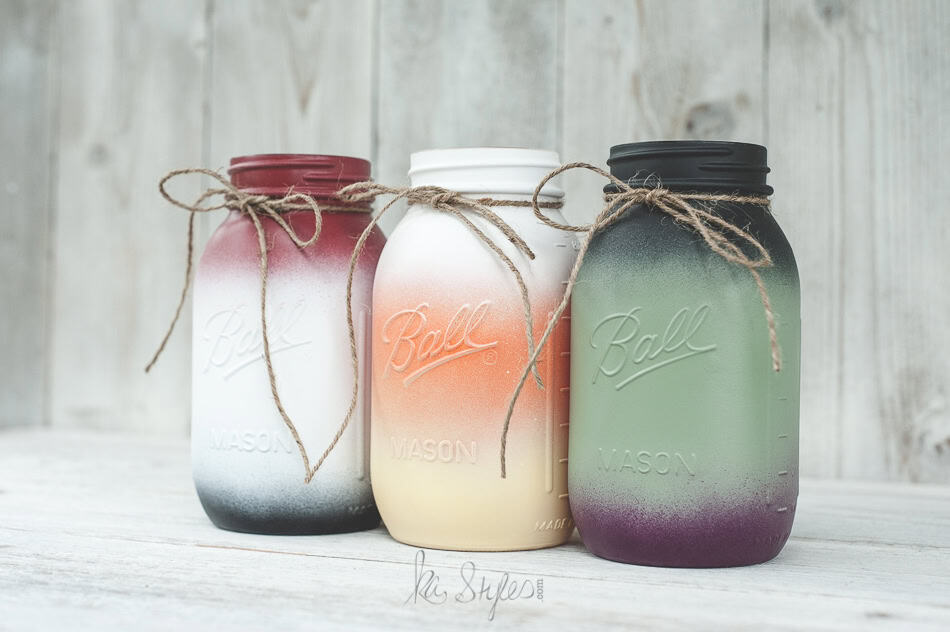 Instead of throwing out used pasta sauce jars, try and turn them into a creative decoration! This craft is super easy, and you can use it to display the crayon candles mentioned above. For this craft, you need mason jars, some stickers for stenciling, and acrylic paint.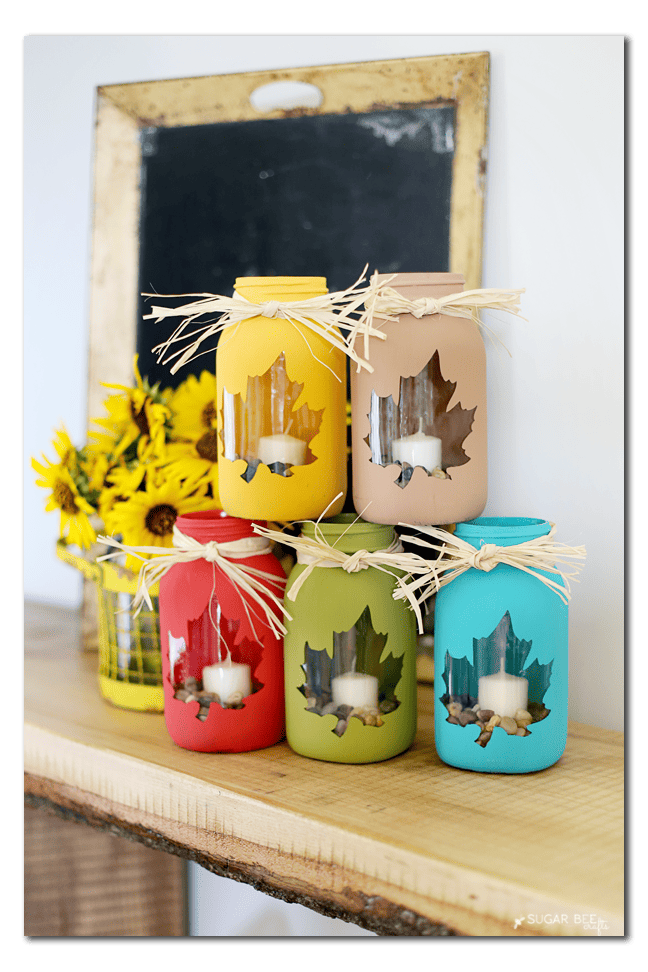 First, position the sticker on the jar. This will be the one part of the jar that will remain see-through. Next, paint over the whole jar and let dry. Repeat this process until you are confident in the coat of paint. Let dry and remove the sticker. This will leave a "window" in the paint and is perfect for displaying a candle!
Place some pebbles or sand in the bottom of the jar for the candle to sit on, and then put it on display!
These are only a few ideas for creatively repurposing your recycled waste.  They are fun activities for kids of all ages to do to celebrate Earth Day! Remember to stay creative and find ways to make recycling more fun!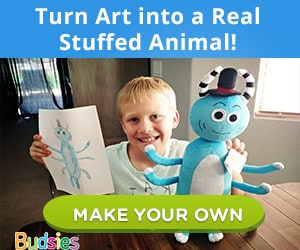 Make your own custom stuffed animal! Budsies make the perfect gift for kids of all ages!