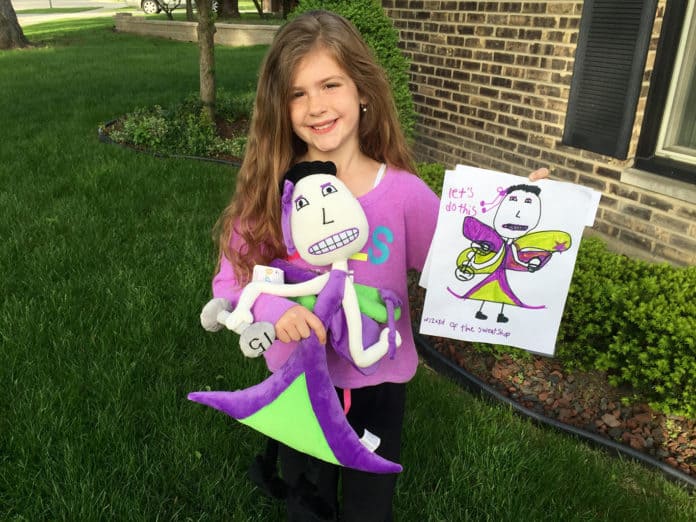 We are a professional blog site that may receive compensation or free samples from the companies whose products and topics we write about. We are independently owned, and the opinions expressed here are of the writer. To read the full disclosure click here.
________________________________________________________________________
As adults, we tend to need an extra shot of motivation before we exercise. We scroll through Instagram feeds full of inspirational photos and quotes, drinking electrolyte-enhanced beverages and muttering cliched mantras like "push yourself" or "feel the burn!" We need motivation to get us through the door, and we need inspiration to help us face the seemingly endless rows of mirrors, cold silver machines, and analog scales. But as kids, exercise itself is inspiration.
Felicity originally sketched The Sweat Wizard as an entry for a mascot contest at her local gym. Inspired by her gym's fit and friendly staff, Felicity designed the mascot with the qualities of the personal trainers in mind — but she didn't stop there. She added in one part boxer, two parts fairy, a dose of good witch, and a sprinkle of butterfly. When she won the contest, her mother knew she had to order a Budsie to commemorate her daughter's proud moment. "I wanted to make it extra special for her. She did something so positive, I wanted to keep that going," said Michele, Felicity's mother. "She was so excited to tell her friends the whole story!"
A regular at the gym, The Sweat Wizard loves to work out, dance, and sing. More than that, he loves to make new friends and help them stay healthy. When he isn't lending a helping hand to his friends at the gym, he loves to teach the other toys, dolls, and stuffed animals in Felicity's playroom how to exercise and have fun.
Most kids may not know the science behind exercise, or what it physically means to take an hour and use it to improve your body. But we all understand what it means to lose yourself in a frenzy of running legs. That moment of bliss, of weightlessness. To want to run faster, jump higher, dance crazier, live longer. To need a moment to catch your breath. To feel alive, in control, and on top of the world. Do you remember?
"The Sweat Wizard is special to me because I worked really hard in drawing him and making up his personality," said Felicity. "He is my very own creation and I love him!"
She got the gift of Budsies. We got the gift of inspiration.
Do you have a fun, unique, or heartwarming story about your Budsie, Petsie or Selfie? Fill out the

Share Your Story

form to be featured in our Spotlight Series!