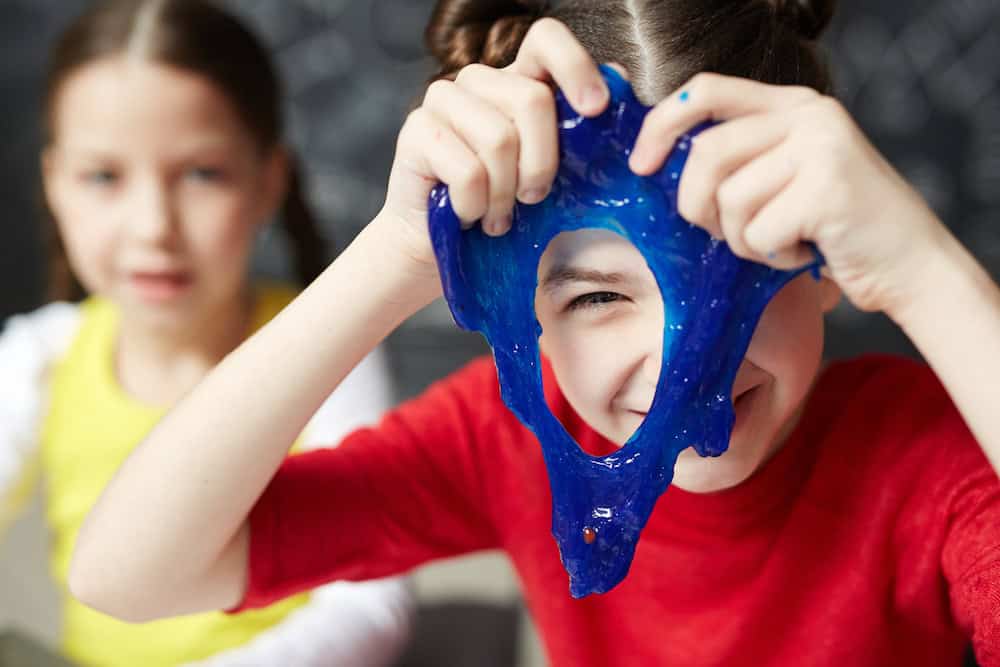 We are a professional blog site that may receive compensation or free samples from the companies whose products and topics we write about. We are independently owned, and the opinions expressed here are of the writer. To read the full disclosure click here.
________________________________________________________________________
I remember back in the 90's as a kid where I would see advertisements for the floam. Nickelodeon was the one that introduced my generation this simple yet fun toy premise. Basically, it's a non-sticky slime that you can mold and shape into anything you want. It was an amazing sensory toy for kids like Playdough and kinetic sand. One great aspect about floam is how easy it is to make by yourself. However, one common problem with DIY foam is finding the best balance in ingredients so that it does not end up being annoyingly sticky – so, here's my guide on how to make DIY smile less sticky.
How to Make DIY Slime Tutorial
In this tutorial, I'll be giving you a step-by-step guideline and tips on how to make your slime less sticky. Pinpointing that perfect blend of ingredient mixture to give your kid a highly entertaining and sensory satisfying new toy for a cheap price!
What You Will Need
Before we begin, you first have to make sure you have the following materials on hand. This measurement should give you 1 cup of floam or slime. You can increase these measurements if you wish to produce larger quantities of floam.
1 bottle of Elmer's Glue (white)

Borax solution – Take 1 teaspoon of the detergent booster, Borax, and mix it in 1 cup of warm water. Stir until the water is clear once again.

Shaving foam – It is important that you get the foam kind and not the cream or gel kind.

Mixing bowls
Optional Ingredients
Food coloring – This is an optional ingredient but will definitely make your slime significantly more interesting. It is also a way for your kid to further personalize their very own slime. Make it their favorite color or create a pack of brightly colored floams for your child which should further enhance its sensory stimulation.

Eye contact solution OR liquid starch – This is the key ingredient here to make your slime less sticky.

Polystyrene balls – This should add some aesthetically pleasing elements to your slime.
Now that we have collected all necessary ingredients, it is time to create our very own flubber. The procedure is easy so you can have your child helping or have them take the reins with you only supervising the process.
How to Make Slime or Floam
Recipe was taken from https://www.youtube.com/watch?v=s1IS20IWE8o
Step 1: Pour the entirety of Elmer's Glue into your mixing bowl. Every drop counts so make sure you empty the whole bottle in there.
Step 2: Take your shaving foam and pour ½ or 1 cup into the glue. Mix and stir it in to find the right consistency. From my experience, 1 cup of shaving foam should be more than enough to deliver that perfect consistency of sliminess and fluffiness.
Step 3 (optional): Add some food coloring to the mixture. A few drops should suffice to give the whole mixture a solid color. You can also experiment beforehand with combining different food colorings to get that right palette.
Step 4 (optional): Take your pack of Polystyrene balls and mix it into the slime. Don't pour everything into the pack! You need the slime to retain its consistency and having too much Polystyrene ball in there will make it harder to mold giving it a clay-like consistency.
Step 5: Now, you will notice how sticky this mixture is. This is where you will mix in either eye contact solution or liquid starch. Either of these two will do fine. Pour in a couple teaspoon of liquid starch or a few drops of eye contact solution. Stir it thoroughly and touch the slime to see if it is still excessively sticky. If it is, just add a couple more of either your liquid starch or eye contact solution.
Step 6: Take your Borax mixture and pour one teaspoon at a time into the floam. This should help the floam to hold together. Once the floam and Borax start mixing together, your slime will slowly form into a clump.
Step 7: Take your slime and place it on the table. Make sure the table is clean first. Knead your slime to further mix all the ingredients together. If the slime feels a bit sticky just add some more eye contact solution or liquid starch. If it looks a bit pale, take your food color and pour in a drop or two and knead the floam.
Step 8: Place it in an airtight container or ziplock bag like Kitchenistic when not used. This should prevent it from drying up quickly and will give it at least a couple weeks lifespan and enjoyment for the kids.
[UPDATE: You can now turn custom artwork into a one-of-a-kind plush! Make your own stuffed animal by clicking here to get started!!]
Have fun creating your own floam
There you have it, your very own slime or floam toy! It's easy to make and safe to play with making it a great sensory stimulating toy for children. They can squeeze it, mold it, stretch it, and fiddle with it anytime they want. My child would usually have it with her most of the time. Playing with her squishy slime on one hand while doing something else. She says it helps her relax which is why I also have one in my office and I have to agree, it's a great stress reliever indeed.
Now, hopefully, you are able to circumvent the stickiness problem of DIY floams. This step-by-step tutorial on how to make your very own slime is a great activity for you and the kids. In fact, I would say making homemade floam is just as fun as playing with it. It is also a great sensory toy for toddlers as you can teach them various sensations from touch. I hope this little tutorial gave you an idea for an interesting toy for your kids as well.
Please always supervise your kids when using ingredients to make floam and keep any hazardous materials locked away from small children.
Author bio: Nancy Shaw is the founder of HiFiveBaby where she writes about common problems encountered by parents and how to deal with them, motherhood in general and FAQs about babies, toddlers, and kids. She provides scientific and medical basis and also her personal experience as a mom to a wonderful toddler.
Are you looking for the perfect gift for your child? Check out Budsies, custom stuffed animals made from kids' artwork! They make a great personalized gift for kids of all ages!