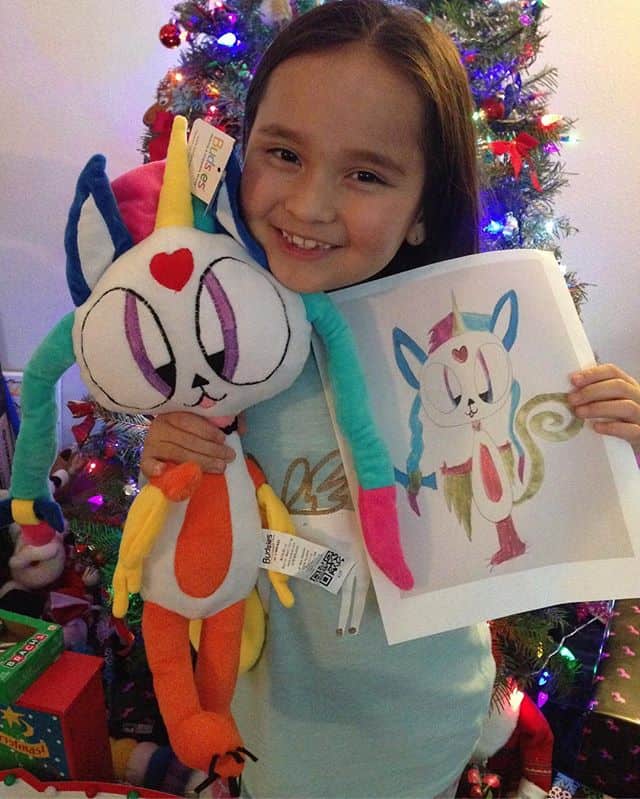 We are a professional blog site that may receive compensation or free samples from the companies whose products and topics we write about. We are independently owned, and the opinions expressed here are of the writer. To read the full disclosure click here.
________________________________________________________________________
Christmas morning is a time of wonder and amusement. When your children open their gifts from Santa, seeing the expression on their face is priceless. You can ensure that this Christmas is unlike any other by giving some personalized Christmas gifts for kids that is just for them. Not only will these keepsakes inspire your child but they will be mementos that they hold dear to for many years to come. To help you out in the shopping department, we've compiled the best personalized Christmas gifts just for kids that are sure to make them squeal with delight when they open them.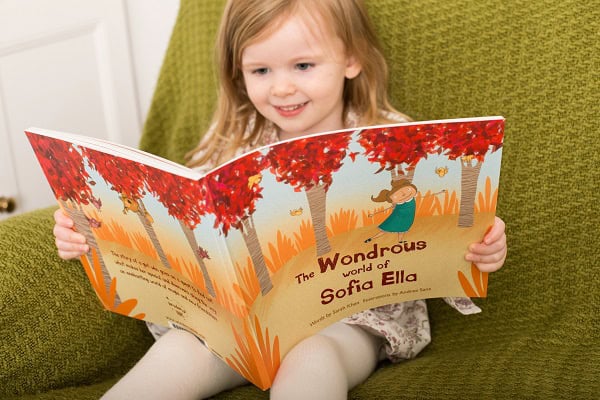 Every child loves a good story, and you can't go wrong with the Wonderous Ink personalized children's book. This book allows for a unique story to be written about your child including their name as a reference. Your child will light up at the prospect of seeing their name in a book, and it is sure to be a favorite read every night before bed. This is the ideal gift for a boy or a girl as it will be customized to their gender and includes their name on the cover and within the storyline.
Available on WonderousInk.com
Bring your child's drawings to life with a Budsies stuffed animal creation. These plush animals are crafted using the very pictures that your child carefully and artfully creates. Just send Budsies your child's favorite masterpiece, and they will turn it into a stuffed animal that looks exactly like their drawing. Imagine the surprise and sheer awe on your child's face as their imaginary creation comes alive and is right there waiting to be hugged, loved, and played with. These unique and handmade stuffed animals are works of art crafted through the mind of your child. This best personalized Christmas gift is sure to win the hearts of children of all ages.
Available on Budsies.com: $129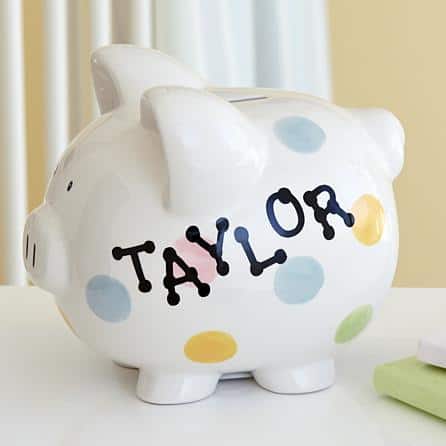 Gifts.com Polka Dot Piggy Bank
Teaching your child early on the value of money can help them as they get older. Helping them to save is one of the ways you can educate them and allowing them to penny away for something special can easily be done with the Gifts.com polka dot piggy bank. This ceramic piggy bank is emblazoned with your child's name, providing a custom bank for them to put their money in. No need to break the bank when full as it has a rubber stopper that allows for easy removal.
Available: Gifts.com, $29.99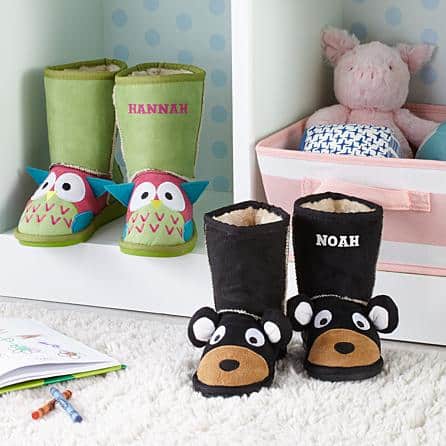 Personal Creations Toasty Toez Character Slippers
Slippers are the quintessential gift of the season, and the Personal Creations toasty toes character slippers have a life of their own. These cozy slippers not only feature your child's name embroidered on them but they have a playful owl or bear motif. The lining of these slippers is made from a warm fleece and the exteriors are faux suede with rubber soles. These adorable slippers will keep your child's feet warm and cozy all winter long and be a fun surprise to open come Christmas day.
Available: PersonalCreations.com, $29.99
[UPDATE: You can now turn custom artwork into a one-of-a-kind plush! Make your own stuffed animal by clicking here to get started!!]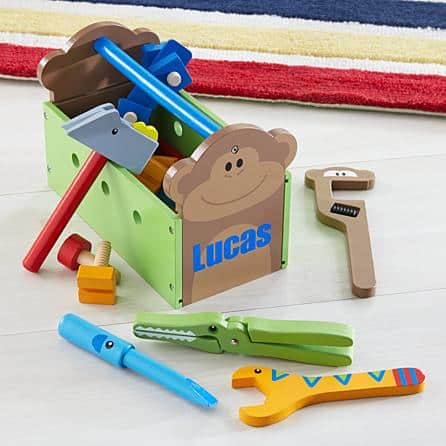 Stephen Joseph Handy Monkey Toolbox
Do you have an up and coming handyman on your hands? Then, the Stephen Joseph handy monkey toolbox may be in order. This wood toolbox comes complete with all the jungle-themed tools your child needs to spin their imagination and help dad or mom around the house. Before you know it, they'll be hammering away and fixing everything in sight. Add your child's name for a truly personalized gift and watch the excitement on your child's face as they open it on Christmas morning.
Available: Gifts.com, $49.99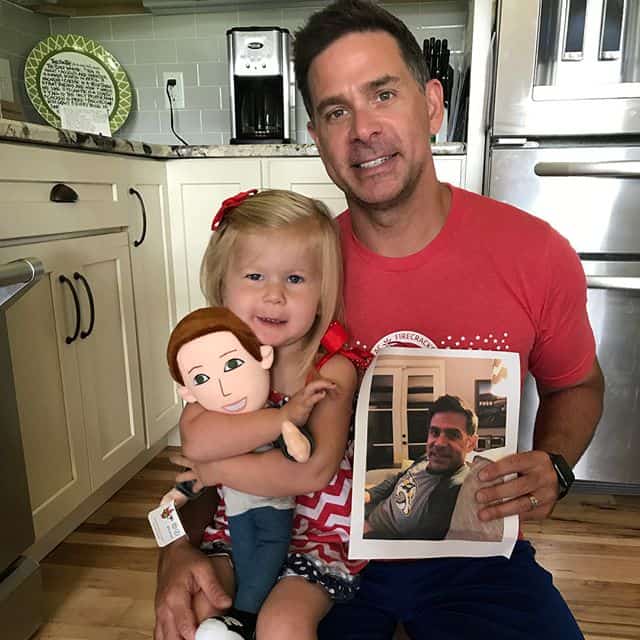 What child wouldn't love a stuffed figurine of their best friend or favorite family member? With a Budsies Selfies custom doll, your child will be able to have their pal with them wherever they go. Just send a picture of the person to be created, and a Selfies plush figurine will be crafted with care. It will not only resemble your child's loved one, but it will keep them company at night and be a playful toy during the day. Your child will love their new pal and be glad for the additional company when they are scared or sad. Selfies can turn any person into a stuffed figurine and is a thoughtful personalized gift to give on Christmas.
Available: Budsies.com, $99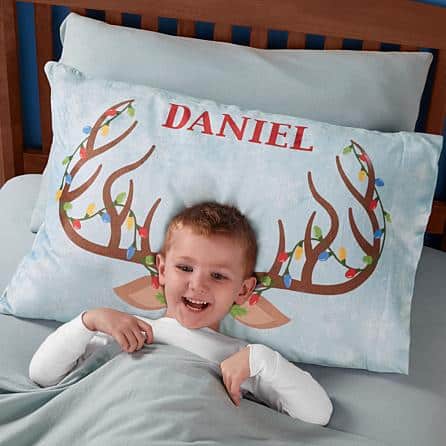 Personal Creations My Favorite Character Pillowcase
Let your child dream of sugar plums and fairies with the Personal Creations my favorite character pillowcase. This sleepy gift allows your child to choose from antlers, top hat, Santa hat or elf hat and features your child's name boldly across the top. Your child will instantly turn into their favorite holiday character and have sweet dreams all through the holidays. Machine washable and made from 100 percent polyester, this pillowcase is a wonderful personalized Christmas gift to put under the tree for your child.
Available: PersonalCreations.com, $24.99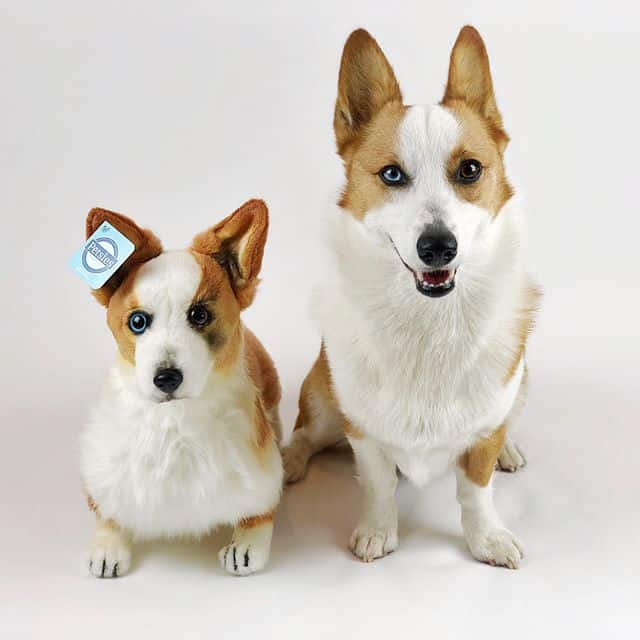 Your whole family will love this gift of the constant companionship of a Petsies stuffed animal pet. These lovable plushie pets look exactly like your furry friend and are the perfect way to commemorate your family's pet for a lifetime. Using a photo of your pet, Petsies turns a stuffed animal into an exact replica of your dog, cat, fish, bird, chicken, or even a lizard – the possibilities are endless! It's fun having two pets that look exactly alike and be able to have the Petsies keepsake forever. The similarity of these stuffed animals is uncanny, and you won't believe the details as every marking, wrinkle, spot, and dimple will go into its handmade design. This is the ultimate personalized Christmas gift for anyone with a pet! Watch their eyes light up with glee. Petsies are also a good way to remember a lost pet by providing that missing companionship.
Available: MyPetsies.com, $199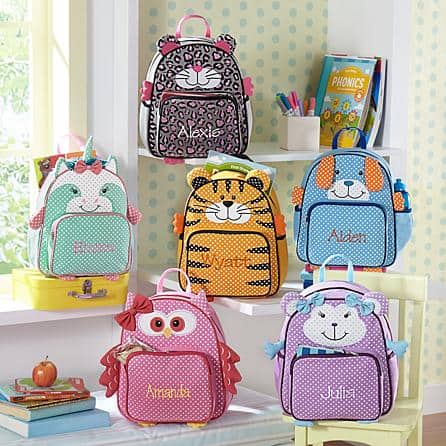 Personal Creations Little Critter Backpack
Make school as fun as possible for your child with the Personal Creations little critter backpack. These fun-loving backpacks feature a range of characters that will keep your child company as they head to school. Adding your child's name to the bag makes it that much more personal and will help separate your child's belongings from their friends. Made from a durable cotton canvas, these backpacks will fit everything your child needs to take and from school with plenty of pockets included. Choose from a butterfly, cheetah, dinosaur, lion, monkey, monster, owl, panda, penguin, puppy, tiger, and unicorn design. Your child will adore this backpack and won't be able to wait to return to school after the holidays.
Available: PersonalCreations.com, $34.99
Best Personalized Christmas Gifts For Kids: Start Your Holiday Shopping Now With These Perfect Custom Gifts!
With Christmas right around the corner, now is the perfect time to prepare your gift list and get some early shopping done. Don't delay as these best personalized Christmas gifts for kids will go fast and you certainly don't want to disappoint come the holidays. Surprise your child with a custom gift this Christmas and enjoy the magic when they open a present that was made just for them. Happy shopping!
Find the perfect holiday gifts for your working mom!