With our Budsies Pals Kits, you get to directly sponsor the creation of a plushie for a brave child and their family. We also accept tax-deductible donations through our  Budsies Pals Donor Fund  in any amount, which will go directly to our non-profit and hospital partners. Thank you from the bottom of our hearts! 
Please note: Directly sponsoring a child via our website is not tax deductible, if you would like to make a tax-deductible donation, you can do so with our Budsies Pals Fund.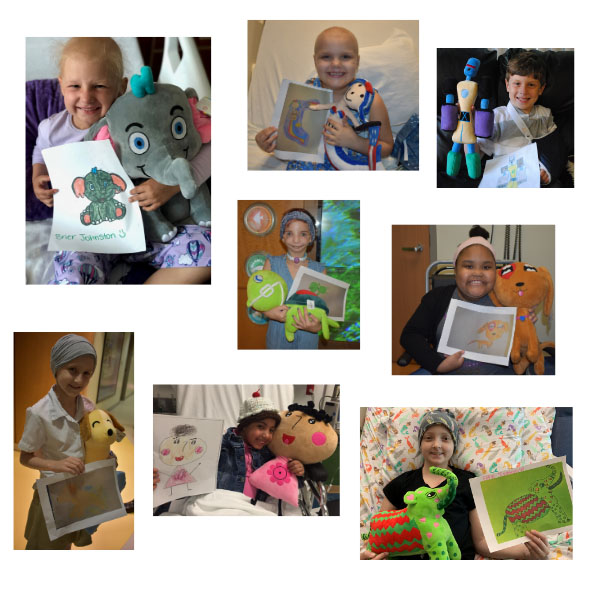 Purchase a Budsies Pals Kit
Each child is paired with a sponsor from our Budsies Community (that's you!).
The Budsies Pals Kits are delivered to the kiddos, so they can draw and create their own Budsies stuffed animal.
The Budsies stuffed animals are handmade with love by our designers and sent to the kiddos or their loved ones to offer them comfort & happiness.
$159
We respect each facility's and family's privacy, but do our best to share photo and video updates of the children after they receive their magical creations.
Budsies Pals Reveal at The Ladybug House
Making a Huggable World, Together!
As our Budsies Pals program continues to grow, I am honored to continue to share the stories of how you are helping sick kids and their families through the hardest times of their lives.
Suzanne, from The Ladybug House, shared that recipient Lorne loved his garbage truck girlfriend Budsie and slept with it until his passing. His family was truly grateful for the wonderful memory.
Thank you for helping us make a more huggable world,
Frankie Burns
Vice President
Previous Budsies Pals Sponsors
Thank you for the continued generosity of our Budsies Pals sponsors. We're thankful to be able to join them in spreading a bit of joy and kindness around our communities. Thank you for making a more huggable world!
For more information or if you have questions email us at  [email protected]
Elizabeth Clarke

Karen - Severna Park, MD

The Balsizer Family - Johnstown, OH

Kevin & Brett - Colorado Springs, CO

Loubert Family - Redondo Beach, CA

Shoshannh Cookie Co

Tyler - Bernardsville, NJ 

Carey - GA

Rebecca - Keizer, OR

Allan - New York, NY

Sarah - Sag Harbor, NY
Knowbly

Elizabeth from Brooklyn, NY

Peyton from New York, NY

Anonymous

Anonymous on behalf of Dongler

Skylar & Alexandra

Anonymous

Chenelle - Cranston, RI

Patricia - PA

Adam - CT

Anonymous
Tom and Cindy - FL

Karen - TX

Bill - Colorado Springs, CO

Richard - Melbourne, Australia

Susan - Columbia, MO

Shayna

Frances - New York

Adam - Austin, TX

Michael - Manorville

Anonymous

Rory - Boulder, CO

Lynn - Plantation
Deborah - Columbu, OH 

Greg - Illinois

Jackson, Katie, Lennon & Lincoln LeStrange

Tracie - Kansas City, MO

Maiya - London, ON, Canada

Michelle - NY

Melena & Carissa - Minnesota 

Christopher - Dumont, NJ

Anonymous