We are a professional blog site that may receive compensation or free samples from the companies whose products and topics we write about. We are independently owned, and the opinions expressed here are of the writer. To read the full disclosure click here.
________________________________________________________________________
From the moment Sara began to draw, she wanted to create a friend. An only child doesn't have to be a lonely child — especially not when you can fashion a friend from your very own imagination and bring it to life! Imaginary friends and pretend playtime can easily become a child's reality, one that can be extremely important in their creative development. And the sillier, the better.
According to little artist Sara, Pedro's full name is Pedro Sillenberg Kwaki III. A native alien from the Planet Happy, Pedro was forced to flee Happy to escape the evil villain Lightning Bolt. He is made out of Jello and has gelatin for bones, and he only eats marshmallows and sub sandwiches. Pedro's flower antennas are like hair, but when the seeds drop, he can eat them or sell them. In addition to his knack for making friends, Pedro has the ability to jump to extreme heights because his toes are super springs. His arms can also be used as wings to fly when he's too tired to jump.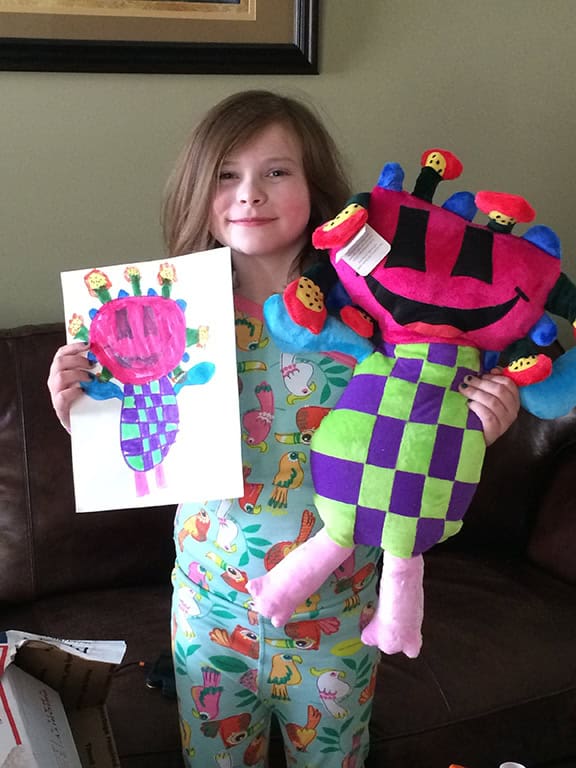 [UPDATE: We've published our own kids coloring book! Get a free digital copy of Dongler's Dinner Quest (a $24 value!) by downloading it here!]
"Seeing Sara's reaction to receiving Pedro was extremely fulfilling," said her mother Lauren. "She sometimes feels very lonely as an only child and loves stuffed toys more than anything in the world. From the moment she first heard of Budsies, she was full of excitement creating her design. To see her imagination come to life is worth every penny!"
Pedro lives in Sara's home and sleeps in her bed. Pedro's greatest talent may be his jumping ability, but he is also known to be an excellent cuddler. So far, he has accompanied Sara on a trip to Michigan and Chicago, and will be joining her for many more summer adventures.
A friend who can be taken anywhere and one who is never too busy, Pedro proves that there is no such thing as too much silliness or love. When asking Sara about her Budsie, she said, "I love him because Pedro is well… Pedro. He's just who he is, which is great. I made the design for him and now he's with me! He's my best friend."
Do you have a fun, unique, or heartwarming story about your Budsie, Petsie or Selfie? Fill out the

Share Your Story

form to be featured in our Spotlight Series!