We are a professional blog site that may receive compensation or free samples from the companies whose products and topics we write about. We are independently owned, and the opinions expressed here are of the writer. To read the full disclosure click here.
________________________________________________________________________
We love to bring your drawings to huggable life here at Budsies, but more than that, we love to help bring a smile and some comfort to those who need it. Through Budsies, we've discovered that both the act of drawing and seeing their art turned into a stuffed animal have been especially beneficial to children with autism. It not only reinforces that their world is real and beautiful, but it's also super exciting and comforting for them to be able to hug their creation. We wanted to share some of the wonderful stories that were shared with our team.
Autism and Artistic Talent
Drawing and creating works of art are known to help to be therapeutic and build self-esteem, which is very important to all children. So naturally, researchers went a step further and determined that art can also improve social interactions and positive emotional development amongst kids on the spectrum.
There are children with Autism Spectrum Disorder (ASD) who have low-levels of linguistic abilities. It's hard for these kids to communicate verbally, however they are able to communicate through art! These kids draw from memory with super-sonic accuracy. It's absolutely amazing. This is because they have not formed words in order to label objects in their environment. They account for this by drawing their surroundings with unbelievable detail.
Budsies bring art creations to life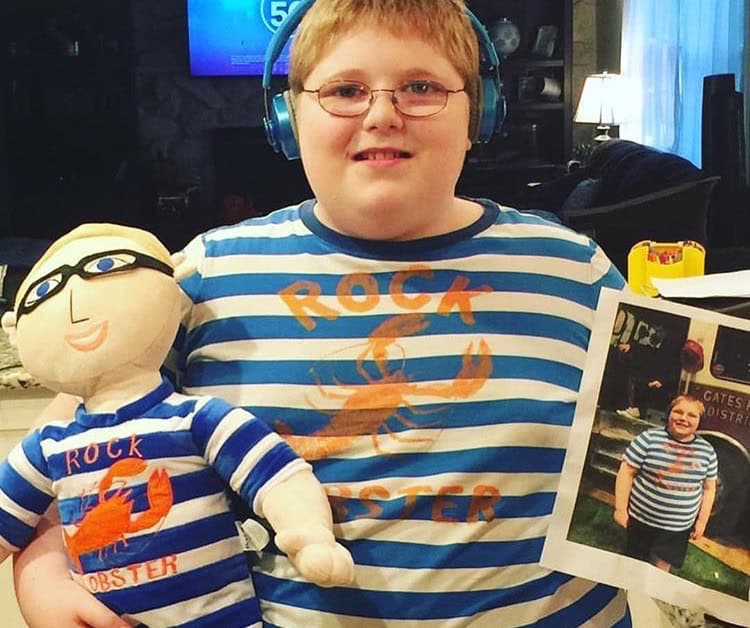 Alex, a super talented 12 year old, has had several of his drawings (along with his own picture), brought to life. His mother, Suzanne, told us that while his verbal skills are still at a 5 year old level, he's always been extremely skilled in creating 3-D objects out of construction paper and tape. He's built robots over 8 feet tall, a shopping cart, a giant flamingo, a cheetah and tricycle — to name a few. Unfortunately his creations are too big to all fit in their home, and they aren't the best snuggle buddies.
His mom decided a perfect solution to the space problem was to create two 30-inch super-sized Budsies out of Alex's favorite designs—two robots (a boy and girl).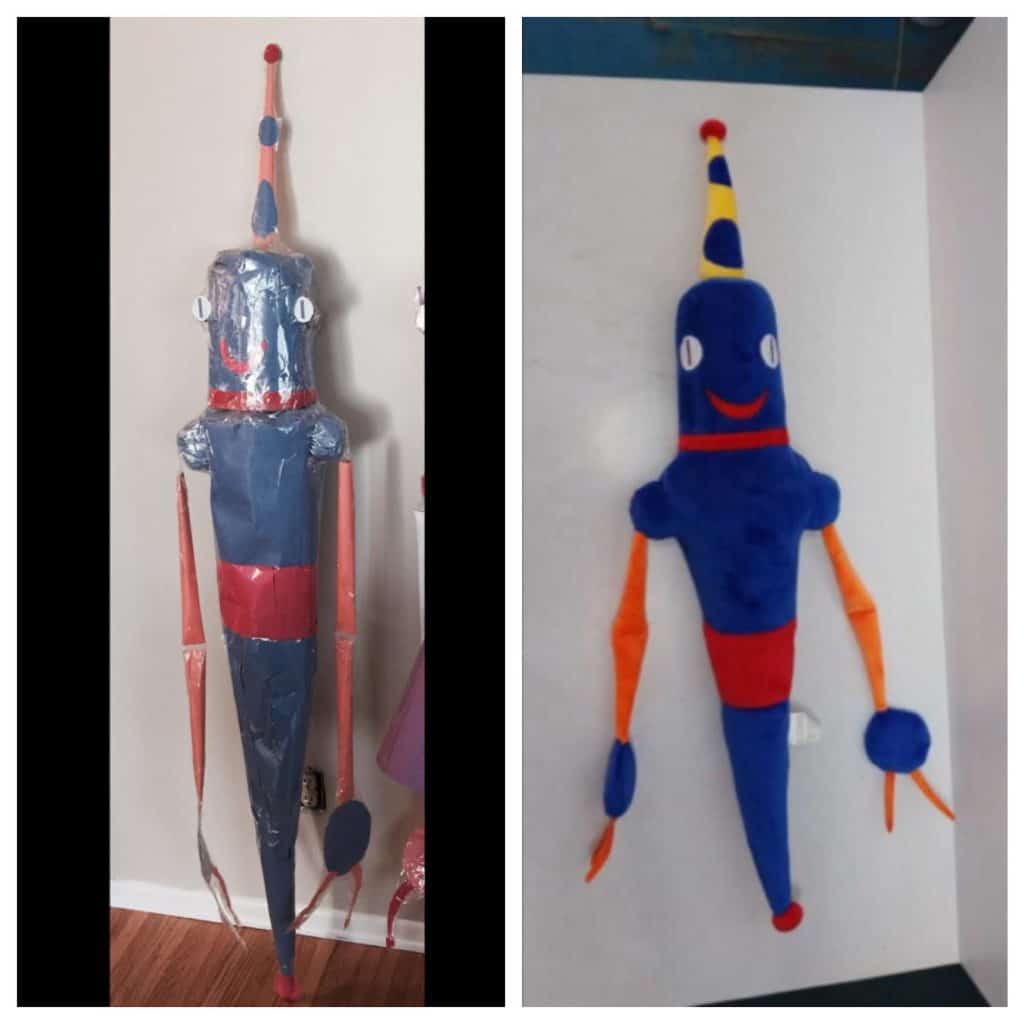 "Alex was over the moon with joy to see his paper and tape creations turned into Custom Budsies that he could play with, take on car trips, and sleep with at night." – Suzanne
We're thrilled that we could help bring his work to 3-D life, and can't wait to do even more for Alex in the future.
Bringing Comfort to Kids on the Autism Spectrum
Amanda, another one of our amazing customers, has found comfort in her Budsies. She discovered Budsies last winter and now has five custom plushies of her characters (and more to come). Amanda learned to draw before she could speak, and enjoys having her drawings come to life in 3D form.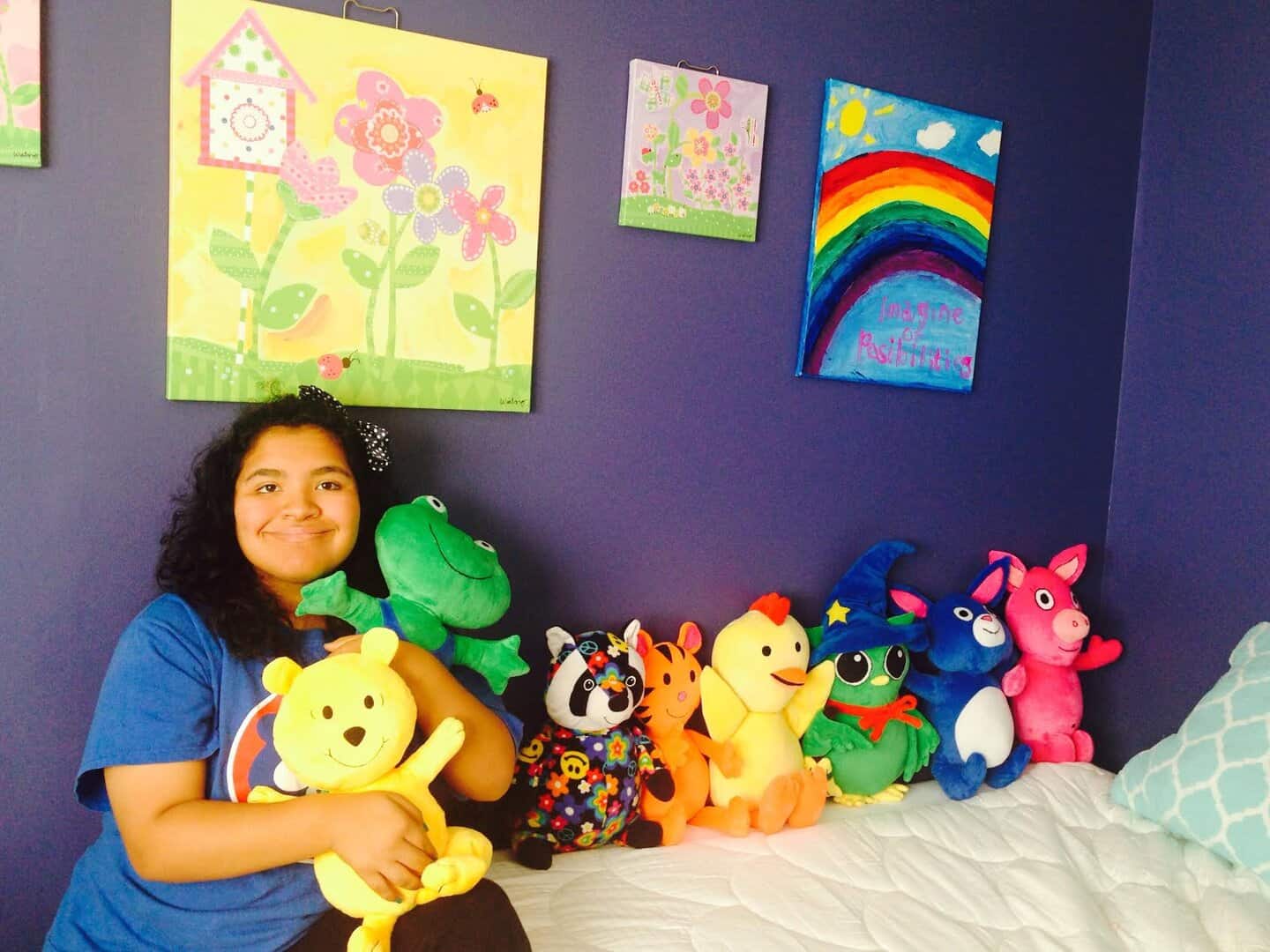 Every single one of her Budsies has a place in her home, from playing with Ollie the Owl when she gets home from school, to finding comfort in Greta the Frog when she's feeling overwhelmed. It's safe to say that Amanda absolutely LOVES her Budsies. She takes all five of them on trips to see family — they even have a special suitcase to travel in. Being able to take her Budsies on trips or to a Doctors appointment helps Amanda feel comfortable in new situations.
Making a Little Girl's Dreams Come True
One father surprised his autistic daughter with Budsies of four of her favorite characters! Kayla was so excited to see see these characters in cuddly form. It brought tears of joy to our faces when we watched her open her special gift. Watch for yourself and hear Kayla describe why she loves her "freakin awesome" Budsies
Budsies Provide Sensory Information
Budsies, and toys in general, have been proven to help kids with ASD. Many autistic children have sensory integration issues — problems with touch, movement, and noise. Children with autism might find certain objects uncomfortable.
The soft plush of a Budsies is perfect for a kid who finds discomfort with the objects that surround their daily life. As a beloved toy that holds significant value, it helps keep autistic children grounded. It's also nice to have a reassuring friend to hug in times of sensory overload.
#Makingahuggableworld
These stories make us so happy! The team here at Budsies is so glad that we can help children on the spectrum bring their art to life and find comfort with their new best friend by their side. We can't wait to bring even more smiles to those who need it!
Visit Budsies.com to turn your or a loved one's artwork into huggable buddies!