We are a professional blog site that may receive compensation or free samples from the companies whose products and topics we write about. We are independently owned, and the opinions expressed here are of the writer. To read the full disclosure click here.
________________________________________________________________________
I happen to have one of those thrill-seeking, daredevil boys who is always up for an adventure. Admittedly, there have been several occasions that his stunts have scared me so much I am sure my life has been shortened by years. I finally decided to provide him with some toys that can give him the excitement he wants without the possibility of severe injury or death. Here are four benefits of active play:
Happiness.

Science has shown that getting the body working seems to

make kids happier

.

Health.

Activity leads to better health. With the increasing epidemic of childhood obesity and diabetes, it is important for kids to establish healthy habits when they are young. One of the best ways to do this is for adults to encourage kids to participate in active play.

Imagination.

Active play helps to increase imagination in children. With all the electronic play these days, kids need more opportunities to use their imaginations. Encourage imagination through active play.

Social Interaction.

Most children would likely agree that active play is more fun with more than one person. Social skills improve as children spend time playing together and learning to get along. Active play helps children learn to cooperate, take turns, share, and think creatively.
Favorite toys for active play
Nerf guns. I admit I was adamantly against my kids having any sort of toy guns when they were tiny. However, I have now given in to Nerf guns, which are safer and more fun than most others out there. My kids have so much fun collecting Nerf guns and having an arsenal to choose from when they battle with their friends and each other. Nerf guns are a great active toy for boys of all ages and can be used indoors or outdoors. They can be used in a group or by one boy on his own. There are a wide variety of accessories available as well to make playing with Nerf guns even more fun. Don't forget to provide your boy with protective eyewear (and make sure he uses it).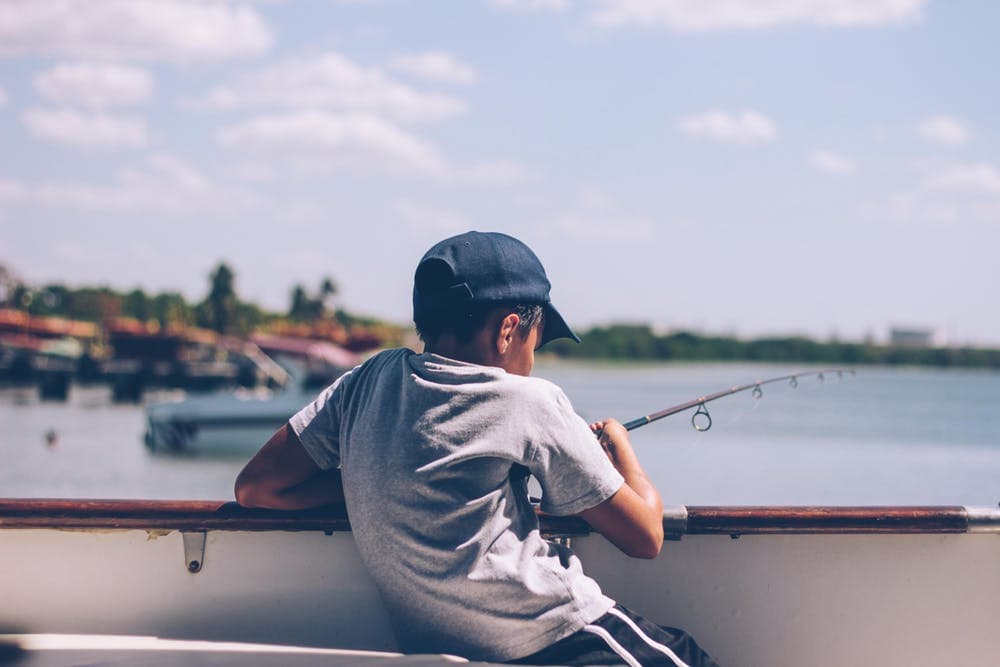 Fishing pole. A fishing pole is a bit different from the other active toys on this list. It is great for an active boy, even though it doesn't necessarily provide the same type of experience. Kids can get out in nature and enjoy the beauty and serenity while learning how to fish. Fishing makes a great weekend outing and can be combined with hiking for some extra exercise. For me, fishing has also provided me a great bonding experience with my children. Be sure to choose fishing gear made specifically for kids. There are fishing pole options for kids, decorated with characters kids love.
Action camera. Kids love being able to document their lives through video, and active boys love adventure. Combine the two through an action camera. This type of camera can be attached to a bike, scooter, or skateboard to record all your boy's excitement as he plays. Some cameras are also waterproof. The videos and photos can be uploaded to a phone or computer (depending on the camera) so your boy can save his adventure memories.
Bike. A bike is a fantastic choice for energetic boys. Not only does it give boys a chance to use their energy, but it also gives them some independence. I love that my boys can ride their bikes to their friends' houses so I don't have to drive them! Riding a bike is a skill that boys can use for the rest of their lives and will help keep them active. Be sure to provide your boy with a quality, well-fitting helmet and make sure he wears it every time he rides!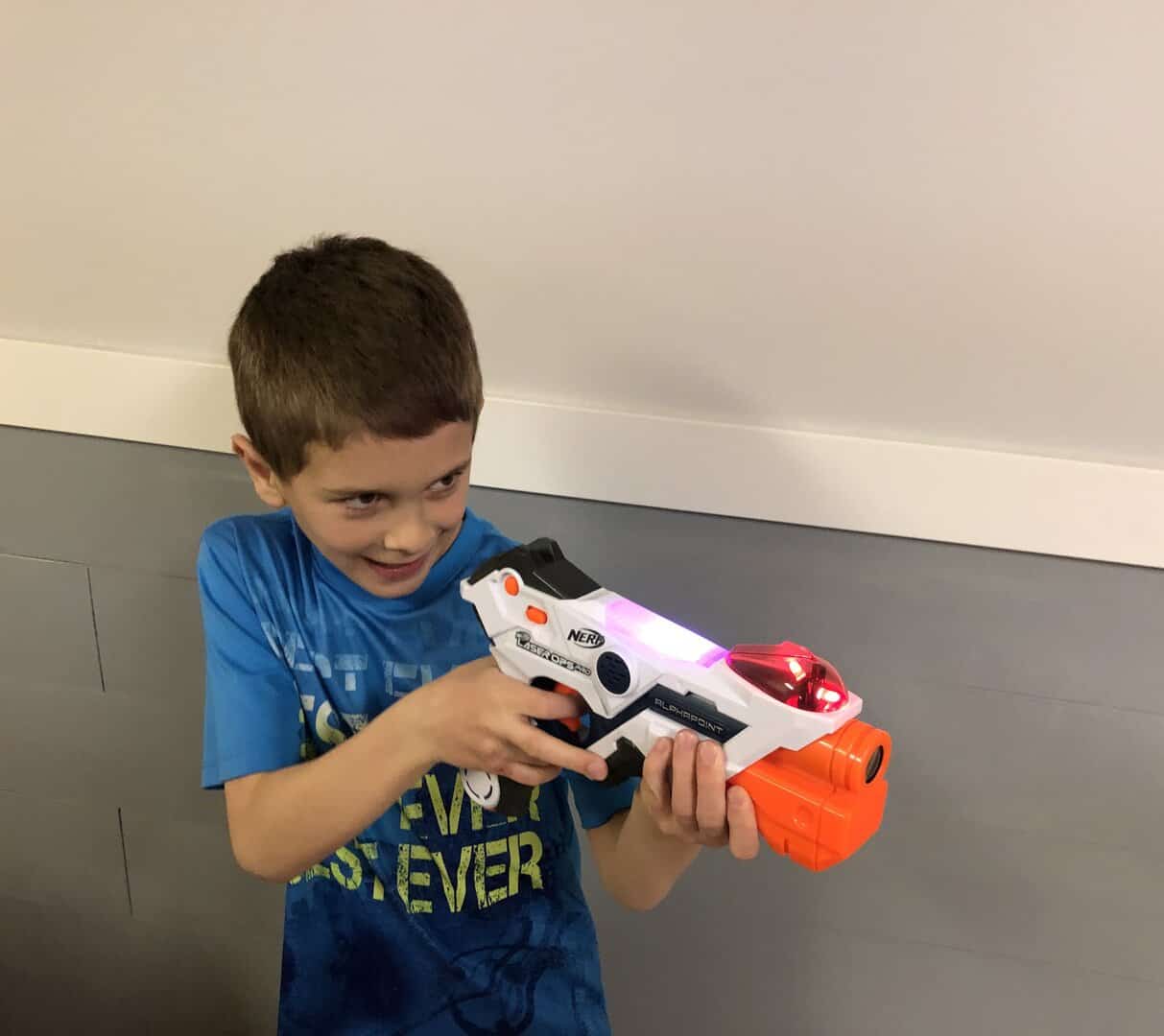 Laser tag guns. After taking my boys and their friends to a laser tag center several times to play, they asked if laser tag was something we could play at home. I was a bit skeptical, but after doing some research we decided they were worth a try. These guns work well inside and outside. We bought four guns so the kids can form two teams or just play one on one. I love that these guns don't require bullets and can be used no matter the weather. My younger boys love playing laser tag with these guns, and my teenage son and his friends enjoy them as well.
Water guns. There's nothing like a good old water fight to cool off on a hot summer day. Boys enjoy filling up a water gun and unleashing on their friends. It's good, clean fun that keeps them moving and using up their endless amounts of energy. The possibilities for fun with water guns are endless. They can be used outside or in a pool. Kids can form teams and play games or shoot at targets (pool floats make fun targets).
Basketball, Baseball, Football, Soccer Ball, or Frisbee. Boys can enjoy throwing a ball or frisbee with a friend or engaging in a full-fledged game. These items can be used in a backyard, a park, or a schoolyard. Getting a group of kids together for a fun ball game or frisbee golf gives everyone some exercise and helps them learn to play as a team.
Do yourself and your active boy a favor by giving him toys that will keep up with his activity level. By helping him embrace an active lifestyle now, you also give him the gift of good health and positive habits for the future. You might be surprised at how much you enjoy using these toys with him!
Author Bio: Susan Hart is Editor-in-Chief for Mommy High Five. She has written and edited professionally for a variety of websites, magazines, and publishing companies. Susan is the proud mother of 4 musical children, and she enjoys reading, gardening, and watching the NBA in her free time.
Budsies, custom stuffed animals made from kids' artwork make the perfect gift for kids of any age! Order yours today!