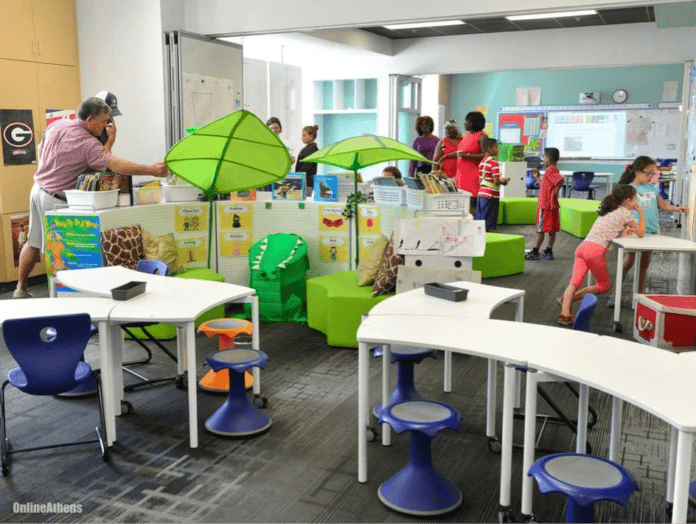 While many in education today feel as if too much emphasis is being placed on standardized testing and other issues, the fact remains that modern classroom design ideas that promote growth and learning among students are still the most important aspect of the educational process. While classrooms of years past contained chalkboards and wooden desks that were anything but comfortable, today's rooms focus on comfort, technology, and collaboration among students. However, with technology as well as design ideas moving at a fast pace, knowing how to create a modern classroom can be more difficult than you might think. If you want to know how interior design, the correct use of space, and today's technology all come together to create a classroom that teachers and students will love, here are some ideas you may want to consider.
Interior Design
If you want to give your classroom a modern look while also making it look stylish, consider having glass room partitions, interior sliding glass doors, and sliding barn doors installed. Not only will they give the room a look and feel of openness, but the glass will also let in plenty of natural light that will create a brighter room that kids will find much more enjoyable. While on the surface it may appear as if having so much glass might be a distraction for kids, in fact the opposite holds true. In various studies about learning habits, children in classrooms that had large amounts of natural light performed better than those confined to darker, more isolated rooms.
2. Collaborative Work Spaces 
Rather than having kids spend all day in a certain area of the classroom, give them work spaces where they can collaborate on special projects and other assignments. Once again, using glass room partitions, interior sliding glass doors, and sliding barn doors can transform an otherwise drab area into a collaborative work space where they can learn, work, and think together. Since kids have lots of energy and enjoy interacting with one another, creating these special work spaces can give them a sense of independence while completing their assignments. Along with this, you can even let the kids decorate these spaces, making it feel even more like their own space.
3. Technology
If there is one thing that helps take learning to the next level in today's classrooms, it's the use of technology. However, since a classroom consists of kids who are introverts, extroverts, independent thinkers, dreamers, and those who just can't seem to sit still for more than one or two minutes, it's important to have a classroom designed with this in mind. To accomplish this while incorporating technology into the daily learning process, create several tech stations using glass room partitions and equip them with computers, mobile devices, headphones, and other equipment that lets students conduct research, practice learning new skills, and then creating a project to show what they learned. In doing so, you'll not only have a classroom full of children who love learning, but are able to show off the new skills they learn each day.
4. Cultivate Inspiration
As many teachers know, kids love to dream and dream big. To help today's kids become tomorrow's leaders, create what's known as an inspiration zone in your modern classroom. Once again, using sliding glass doors or wall partitions can make this happen. By giving them their own space that has lots and lots of natural light shining through, it's hard to tell what ideas and dreams your students may come up with by the end of the day. By putting students into a classroom that feels and looks modern and happy, it's certain their creativity will flourish.
[UPDATE: You can now turn custom artwork into a one-of-a-kind plush! Make your own stuffed animal by clicking here to get started!!]
5. Make the Classroom Modern and Mobile
Since kids today are used to living a lifestyle that's fast-paced and mobile, your classroom needs to be able to fit into this way of life as well. To do so, you can use a variety of simple things, such as adding casters to chairs to allow kids the ability to easily move around the room. Along with this, maximize space by removing traditional doors and installing sliding barn doors, which will be easier for kids to go through as well as give a much more modern look to the room. And to top it off, arrange your furniture to create nooks, which will let the kids feel more relaxed.
Even though education continues to evolve in new and exciting ways, there are still many aspects of it that hold true decade after decade. Allowing children the freedom to express themselves in positive ways, to have access to the best learning tools available, and spend their days in a classroom that looks and feels warm and wonderful, can positively impact kids not just while they are students, but for the rest of their lives.